Long paring chisels are tools mainly used for cleaning up the mortises and joints and make them an accurate fit. Although this is an optional tool, it is very handy to have if you work with joinery, and here we will help you to choose the best paring chisel set for the money.
Paring chisel diagram and features

Paring chisels are long and thin tools which can outperform the widely used bevel chisel when longer reach is required. They are also used when fitting joints to carefully shave off thin amounts of wood.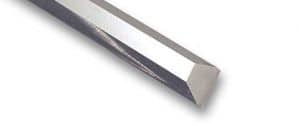 The lightweightness and long length gives you a lot of control. Usually, one hand of a master pushes the chisel forward while the other one, guides the cutting action up front on the blade to dress the sides of a mortise after roughly chopping with a mortise chisel.
Paring chisel bevel angle
Paring chisels' bevel angle is low, and this is probably the main feature of the tool. The lower the angle, the lower force you need to apply for cutting. This also means  less of a need for a mallet and more control.
Bench chisels have 25° angle and Japanese ones about at 30-35 degrees, paring chisel are angled at 20° or less. The edge becomes very fragile but the cutting ability is superb. The wider the chisel, the more effort you need to push through wood, so the wider the tool, the more important a paring chisel angle is.
Of course, such a low angle requires tough steel.  Thereby, the best paring chisels are made of carbon steel with a hand forged for better performance.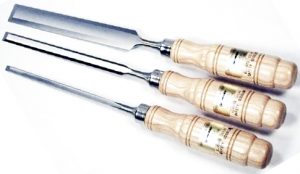 Buck Brothers paring chisels are an example of the tool with well forged blade made of good alloy steel with heat treatment. The handle is made of mape and is big enough for convenient use and, if necessary, modifying for your individual grip. The blades are 10″ long and advertised at 57-59Rc.
Cranked neck paring chisels
Cranked neck paring chisels are designed for cleaning out flat surfaces and other places, which cannot be reached by regular chisels. They are a valuable addition for any woodworker because of their ability to work in hard-to-reach areas.
The blades of cranked neck paring chisels are shorter (up to 4″) for maneuverability. The offset handle provide clearance for work in restricted recesses or fitting housed joints. It is also helps to see the blade face and reduce risk of digging in when making flush-trimming projections.

WoodRiver paring chisel has 18° cranked neck and permits keeping the blade flat while grasping the handle. Works good when you need to
remove excess glue, trim protruding plugs and cleaning out corners. Average length is approximately 10″, the sizes are 1/4″, 1/2″, 3/4″, 1″. Comes at cutting age angle 25 degrees from the factory
The chisel is fairly decent for the price. The steel is a bit softer, so you'll have to hone it a bit more often, but it also is easier to sharpen. The handle is comfortable and the offset is exactly what you need.
Best paring chisel set for the money in 2021
Narex paring chisels
Narex is a world renown Czech brand that produced tools for woodworking from 1919. More than 40% of the tools is exported worldwide.  Narex paring chisels blade is made of highly alloyed CrMn steel and heat treated up to 59 HRc. The handles are ergonomic, made of hornbeam wood and come with brass ferrule.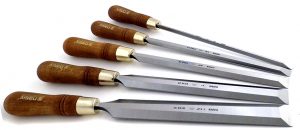 Narex premium 5 piece set with hornbeam handles and 25 degree bevel is a great example of the best paring chisel set. The tools came in a cardboard box, each one is in a plastic sleeve and edge protector.
All of the blade lengths are 9 1/2″ long. The sizes include 1 1/4″, "1", 3/4″, 1/2″ and 1/4″. The backs of the chisels are flat, the edges are not honed. You'll need a normal progression of medium to fine stone sharpening and honing on a strop before use.
Overall, these are really great value for money tools and will last for a long time.

They work great right from the box, but some carpenters resharp them to 20° with a 25º secondary cutting bevel. And with this angle they pare off the wooden ends literally like butter. The steel is great and chisels hold up the cutting edge much better than average.
Paring chisel vs bench chisel
Both bench and paring chisels may be long, but bench chisel is designed for workbench use. You can use it for paring and light chopping. 30º bevels and beveled edges make cutting by hand harder, but and an impact-resistant handle eliminates this drawback.
The blade is typically medium length with either bevelled or straight edges. The handle may be a tang- or socket-style. Overall, bench chisels are versatile general-purpose tools.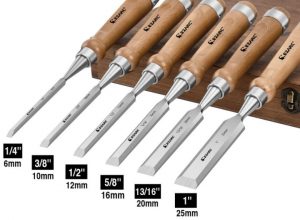 Paring chisel is thinner and it is not designed for striking, only paring. The bevel is in a range of 20-25 degree, usually with tang handles. The tool is designed to be pushed across a wood surface to remove small amounts of material when finishing or neatening up joints.
As a conclusion, if you are beginner, buy bench chisel first, it is a most common and versatile tool. Rather, the paring chisel is designed for finer work, paring and shaving the workpiece, cleaning up deep mortises and joints.
Read also stone chisel guide: choosing the best rock chisels