In my accessory box, I have several step bits, mostly Irwin and Neiko. They are best step drill bits (unibits) for metal, and give me several conveniences to increase my productivity as an electrician:
help make clean holes with short tool length and easier maneuverability;
allows me to drill faster with no need for multiple twist drill bit sizes they are incredibly useful for one-step drilling operations;
unibits are exceptionally well for working with sheet metal;
Product photo
Description
Our rating

OUR CHOICE

Neiko 10193A Titanium best unibits, High Speed Steel 3-Piece Set | Total 28 Sizes

Total 28 SizesBit #1 (6 steps): 3/16″, 1/4″, 5/16″, 3/8″, 7/16″, 1/2″; Bit #2 (13 steps): 1/8″, 5/32″, 3/16″, 7/32″, 1/4″, 9/32″, 5/16″, 11/32″, 3/8″, 13/32″, 7/16″, 15/32″, 1/2″; Bit #3 (9 steps): 1/4″, 5/16″, 3/8″, 7/16″, 1/2″, 9/16″, 5/8″, 11/16″, 3/4″

These Neiko bits are made of HSS with Titanium coating, and have 135° split point tip. They are the best unibits for drilling holes in plastic, aluminum, copper, stainless steel and many other types of sheet metal.

Titanium coating helps to reduce overheating of the cutting edge. Two-flute design clears chips faster, three-flatted shank fits into power tools chuck more securely and eliminates slip.

Neikos are not the best unibit for stainless and hardened steel (better use cobalt bit), but for plastic, wood and thin metal sheets they are perfect. And I don't recommend starting a new hole with these bits, except maybe in a very soft material.

If you make an occasional modification of some boxes or other products made of soft sheet metal, they are more than enough.

1/2″ bit is long and has small steps, so it can peel material in thin layers. The 3/4″ has larger 'steps' so it has a difficulty of engaging thick material.

Bits work wonderfully. Just remember: with metal, go slow and use cutting oil. The case they came in is ready to be abused in your tool bag but will certainly keep it safe.

If you really need to drill thick stainless with HSS+titanium Neiko bit, you can do it.

– Use cutting fluid or at least WD-40 on the bit and on the hole, including the inside of it once you'll open it up.
– Set your drill or drill press on low speed, high torque.
– Make a starter hole with a center punch
– Drill a pilot hole (something about 1/8″)
– Start drilling at a slow speed, applying a fair bit of pressure. The bit should be constantly cutting into the metal, no dumb spinning and smoking, or you'll wear out the cutting edge.
– If it starts smoking, stop, add the fluid or WD-40 and let it cool.
–  Stop and let the bit cool st each step, then add the fluid before starting again.
– At the end, use high speed to smooth the edges.

As a result, you can drill many holes without dulling.

Neiko 10197A Titanium Best Unibit Set, High Speed Steel 5-Piece Set | Total 50 Sizes

Drill Bit #1 (10 step sizes): 1/4″, 3/8″, 1/2″, 5/8″, 3/4″, 7/8″, 1″, 1-1/8″, 1-1/4″, 1-3/8″; Drill Bit #2 (12 step sizes): 3/16″, 1/4″, 5/16″, 3/8″, 7/16″, 1/2″, 9/16″, 5/8″, 11/16″, 3/4″, 13/16″, 7/8; Drill Bit #3 (9 steps): 1/4″, 5/16″, 3/8″, 7/16″, 1/2″, 9/16″, 5/8″, 11/16″, 3/4″; Drill Bit #4 (13 steps): 1/8″, 5/32″, 3/16″, 7/32″, 1/4″, 9/32″, 5/16″, 11/32″, 3/8″, 13/32″, 7/16″, 15/32″, 1/2″; Drill Bit #5 (6 steps): 3/16″, 1/4″, 5/16″, 3/8″, 7/16″, 1/2″

Neiko 10189A Step Drill Bit | 12-Step Bit with Titanium Coat

7/16″, 1/2″, 9/16, 5/8″, 11/16″, 3/4″,
13/16″, 7/8″, 15/16″, 1″, 1-1/16″, 1-1/8″

Irwin Industrial Tools 10234CB 4 Best Unibit 3/16- Inch – 7/8-Inch, 12-Steps Cobalt (1/16- Inch Steps)

From 3/16″ to 7/8″ in increments of 1/16″

The unibit made of M35 grade Cobalt HSS, designed with a radial concave flute, 3-Flatted shank, and SpeedPoint tip.

It is the best unibit for drilling precise round holes with a smooth, clean finish in a variety of tough materials like stainless steel, sheet metal, aluminum, fiberglass, plastics, plexiglass, and wood.

The cobalt high-speed steel provides increased life for tough applications and the SpeedPoint tip penetrates fast and doesn't require a pilot/starting hole.

Permanent laser-etched sizes inside flute are easy to read for precise control during the hole enlarging process.

A little pricey at about 30USD but worth something that doesn't slip and goes through like butter. Excellent craftsmanship and not a flaw in the design.

Milwaukee 48-89-9224 6-Piece Set (1, #4, #6, #7, #8, #9)

Milwaukee bits have black oxide coating. They are dual-flute and have laser-engraved reference marks. They are the best unibits optimized for cordless drills made in the USA.

These tools are pretty good and for DIY projects it never seemed to dull down. 1/2″ Milwaukee hole shooter is the most powerful for it's size.

Titanium Step Drill Bit – 10 Steps from 1/4″-1-3/8″ Inches for Plastic, Wood, Metal – Steel, Brass, Aluminum, Copper

Sizes include: 1/4″, 3/8″, 1/2″, 5/8″, 3/4″,
7/8″, 1″, 1-1/8″, 1-1/4″, 1-3/8″

Best unibit for mild materials: steel, brass, aluminum, copper.  It is coated in Ti and made in two-fluted design, super cheap and works fine in mild steel.

It is a decent bit and it works. If you want to get the start perfect then use the unibit to go to the size of the threads on the knockout punch and you won't have to use the hash marks on the punch to center it.

My "front line" unibits are Irwin, but I have been starting to buy cheap ones to keep "in stock". They cut not so bad, last not so long as the brands, but they are cheap enough to toss when they start losing their edge.

ABN 3-Piece – best unibit set made of M2 Steel – 28 Sizes, SAE

13-Step Bit: 1/8″, 5/32″, 3/16″, 7/32″, 1/4″, 9/32″, 5/16″, 11/32″, 3/8″, 13/32″, 7/32″, 1/4″, 9/32″, 5/16″, 11/32″, 3/8″, 13/32″, 7/16″, 15/32″, 1/2″- 3/16″ to 1/2″ 6-Step Bit: 3/16″, 1/4″, 5/16″, 3/8″, 7/16″, 1/2″- 1/4″ to 3/4″ 9-Step Bit: 1/4″, 5/16″, 3/8″, 7/16″, 1/2″, 9/16″, 5/8″, 11/16″, 3/4″

It is a M2 bits set. Bits are Ti coated and have two-flute design.

For the price It is really the best unibit – little and cheap kit.

The case is very nice and a handy place to keep them, great set to have in tool box.

I used a the bit punch clearance holes for 1/2″ and 3.4″ conduit through hardened steel girts on my metal building. I used cutting oil and ran it with a Milwaukee 1/2″ variable speed drill at pretty slow speeds. I drilled over 100 holes with that bit and it still works!

The steel was so hard that I quit trying to use knockout punches on it after about eight holes, and the plumber stripped the threads on a punch after two holes. I believe, on mild steel boxes, it should last even longer if not run too fast.

CO-Z

Titanium Step Drill Bit

Step sizes: 1/4, 3/8, 1/2, 5/8, 3/4, 7/8,
1, 1-1/8, 1-1/4, 1-3/8-inch

Capri tools are the best unibits among low-priced. They have 3/8-inch shank with 3 slip-resistant flat sides, double flute for convenience, self-starting.

For steel, copper, stainless steel, plastic, aluminum, and other thin materials.

It is best unibit in low-cost segment, but it does not word good for stainless steel. Steel – only thin sheets. In other soft materials it delivers a clean hole without burrs.

And about "self-starting", you NEED a center punch one, at least on steel. The numbers rub off quickly.

I sometimes sharpen cheap unibits. If it's a true Unibit, the flute is cut with a radiused milling cutter on a chordal path to provide a back rake angle to the cutting edge. To sharpen it, I dress a 1/4″ or 3/8″ wide type 1 grinding wheel to a radius roughly equal to that of the flute. Holding the bit to the wheel, grind the radius to undercut the flute face on the cutting edge side. Keep grinding lightly until the tool sharpens up, being careful to maintain the positive back rake of the flute. It should only require a few quick applications to the wheel to bring it back unless it's totally trashed.

For many other brands, such as Milwaukee, use a type 1 wheel dressed to a wedge face or a type 11 or 12 cup wheel. Grind away a little bit of the cutting edge face until it sharpens up.

The true Unibits with radiused flutes can be sharpened a substantial number of times if you keep them sharp so the corners don't break down. The other types can be sharpened a few times, but they're a much cheaper design and don't have a lot of extra metal to allow for sharpening

Hitecera 5-Piece 10197A Metric Step Drill Set HSS Cobalt Multiple Hole 50 Sizes 1/4-Inch and 3/8-Inch Shanks, SAE, w/Aluminum Case

50 Sizes 1/4-Inch and 3/8-Inch Shanks, SAE, w/Aluminum Case

Five standard with a two-flute design.
A complete SAE set: Two popular 1/4″ and 3/8″ shank sizes to cover a wide range of drilling requirements.Includes aluminum carrying case.
Best step drill bit set among low-price tools. Cobalt coated to reduce friction and run cooler. A Large bit has a 3-sided shank and small bits have hex shank to prevent slip in a drill chuck. The set is less expensive than a single bit from other retailers. Cobalt coated is not cobalt steel. M2 is most widely used industrial molybdenum HSS, usually used to manufacture a variety of tools.
Bits come very nicely packed in little carrying case embedded in foam.The quality is quite good, M2 HSS steel durable enough and allows you to work even on stainless steel IF you will choose proper pressure and speed and use lubrication.
For the price, buying the set is a no brainer.
I'm using my best unibits at work to drill holes (7/8″) in electrical boxes. I love them and I have always used these little monsters. Personally I using an Irwin, you may use any reviewed, but my best unibit is Irwin. I have 2 piece set from HD and the 3 piece HF set on sale at the recommendation of a guy at work. Both are nice & go through thin sheet without issue. Haven't used them for anything else.
Summary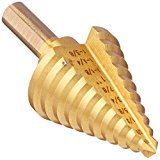 Article Name
Best Unibit (Step Drill Bit) Review
Description
Unibit or step drill bit provides several benefits: - helps to make clean holes with short tool length and easier maneuverability; - provides faster drilling, no need for multiple usual twist drill bit sizes; - work exceptionally well on sheet metal; - incredibly useful for one-step drilling operations. We spent a lot of time to find step drill bits that works fine and doesn't cost an arm and a leg. Read our review to choose the best unibit for your project.
Author
Publisher Name
Publisher Logo