4836class="post-4836 post type-post status-publish format-standard has-post-thumbnail hentry category-drill-bits"
What is the best drill bit for porcelain tile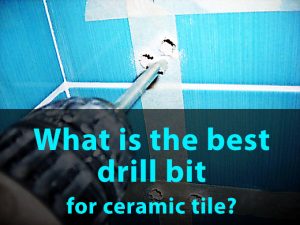 Drilling holes in tile wall is a pretty common task. Installing soap dishes and paper rolls hardware, hanging mirrors, etc is all that requires wall anchors and drilling through tile. In most cases you also drill through the cement or bricks behind it to to secure the mount. In our article we'll help you to find out, what is the best drill bit for porcelain tile.
If your work is urgent and there are no tile bits at hand, you can use a masonry bit. It is harder to start drilling as it tend to wander and move from the starting hole. Using the masking tape helps a lot, but it's still a bit tricky. Therefore, the tiles bits are a worthwhile investment in my opinion.
What is the Best Drill Bit for Porcelain Tile
I think that drilling ceramic tiles is a job serious enough to not be sure of your drill bits. I have used many of these, from cheap Home Depot tools to Bosch for small holes and diamond drill bits for hard work and am happy to share my experience with you.
Bosch carbide tipped tile drill bits are quite inexpensive, but high quality tools. These work really well if you keep a spray bottle to keep them from overheating. Bosch bits drill porcelain pretty good, and I can feel them grind through. The tip is sharp and prevents wandering and walking of the bit. 1/8″, 3/16″, 1/4″, 5/16″ bit set will cover most of your needs. I always use an 1/8″ to start, then move up in diameter.
My colleagues use a spring punch to mark the hole with a small chip in it, but I usually don't because of worry about cracking a tile, even it is a very slight risk.
Once I drill through the tile, I switch to a regular masonry bit and set the drill up to full speed but without using the hammer mode. Very rarely when the wall is very tough, I have to use hammer keeping it steady and straight to prevent damaging the tile.
Yeah, all the bits, even expensive don't last forever. But high-quality ones last long, I have had mine quite a while and most of them are still sharp enough.
For occasional use you can also use cheaper bis such as this 10 Pieces ceramic tile bits set that comes in sizes 1/8, 5/32, 3/16, 1/4, 5/16, 3/8, 1/2″. A larger range of sizes may be useful, while a slightly lower quality may be acceptable if you rarely drill tiles.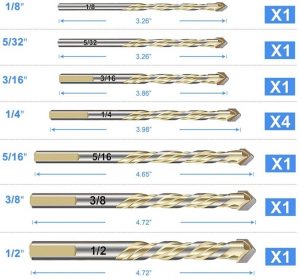 I was also using the Ryobi porcelain bits, but they didn't hold up for more than a four or five holes.
Best drill bit for ceramic tile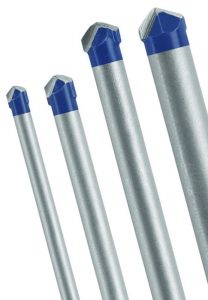 Drill bits for ceramics and porcelain differ, check the specifications of the tool to make sure it is specifically designed for ceramics.
I've had good results with Bosch "Natural Stone Tile" drill bits on hard ceramic tiles. As usual, spray bottle required. Drill carefully, don't overheat and this bits will chew thru tile in seconds. Having someone else spray the water helps a lot.
Best Diamond Drill Bit for Porcelain Tile
I prefer to use a porcelain bits with electroplated diamonds. You need to drill with them at a low RPM and a lot of water. Make the tile surface wet, hold the chuck of the drill between your thumb and forefinger starting at a nearly 45º angle. Touch the tile with spinning bit, it will prevent the tool from skipping across the surface.
After the little lip is started cutting, work further on 90 degrees to the tile. Ask your colleague to shoot a stream of water into the surface your grinding through.
My favorite diamond bits for porcelain are Neiko. These work good for porcelain, ceramic, glass and marble as well, and they are strong enough to make the hole in the toughest tile!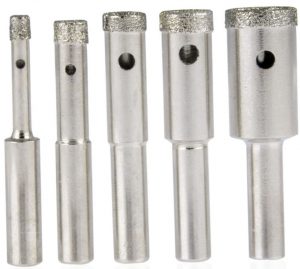 Hole saws with pilot bits do not work properly on tile. They are designed for stone and clay. On porcelain the carbide bit often pops out. So hole saws CAN work but they work slow and their edge can easily crack the tile. And even with these use squirt bottle shooting water every few seconds into the hole.
Diamond tipped core drill bits are designed for drilling at moderate speed with plenty of water. All you need – just start at an angle and don't overheat them.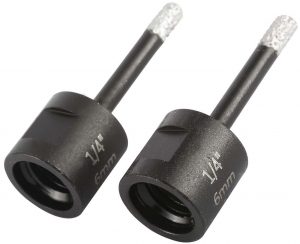 I've also had decent luck with the Milwaukee diamond drill bits. I've made a lot of holes with them at slow speed and keeping them wet with spray. Surely if you are professional, you should have a cache of bits that are sometimes hard to get locally more than 2-3 at a time. Many fresh bits as you go will save lots of time. Way worth it.
Tips and Tricks
If your task is really difficult and (or) you want 100% confidence in the results, make a template of the hinge holes out of plywood or plastic sheet. Find the position on the wall and fix the template on the tile with a hot glue. Insert your bit or hole saw into the holes and at a 90 degree angle. With an exact layout you don't have to worry about the bit wondering and your holes will be perfectly oriented. Even using a bit of masking tape helps a lot because it gives you a way to mark on the tile and stops the drill bit from moving around at the start.
If you drill too fast and press to hard, you can overheat both the tile and drill bit. The bit will dull quickly and heat will rise even more. Tile heating could have it crack.
Avoid drilling too close to the edge of a tile, that also increases the risk of tile damage. Use the drills lower speed and don't use the hammer function.
To drill through the tile neatly put a bit of masking tape on the location of the holes, this also allows you to mark accurately where you want to drill as well as protecting the tile. Then slowly drill through the tile with a tile/glass bit, use the drills lower speed and do not use the hammer function.
Posted on
Categories
Drill Bits