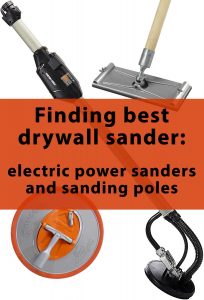 I know guys who used pole sanders for the first ten years and power sanders for the last five and they say electric units are better. With an electric sander  the work becomes quicker and less dust gets into the air. If you choose proper tool and use it right, sanding becomes much easier. Read our article to find the best drywall sander and get more efficient at your job.
Best Electric Power Sander for Drywall
With a shop vac, electric devices do the job clean and tidy. You can keep a house clean for the owner and keep dust out of the kitchens, door and window frames. It works very well and help work faster. The sooner you finish the task, the more money you make, isn't it?
WEN 6369 is the best ?9.2 pounds middle priced drywall sander for hard to reach places. The variable speed 5 Amps motor operates in the 600 to 1500 RPM range. The device performs much better than expected at around $130 price and will pay for itself after the first project.
Telescope handles can reach lengths up to five feet away and flexible dust vacuum hose stretches up to 15 feet. Just use gentle pressure, set an appropriate speed, use correct grit and it will leave you with a beautiful smooth finish ready for primer. When using with a shop vac, about 90% of dust gets to a vacuum bag, which is a real relief.
Porter-cable 7800 is more expensive professional 1400 to 2000 RPM drywall sander with 13 foot vacuum hose. 4.7Amps motor is located on opposite from the head end of handle and provides better control and balance.

At 8.5 pounds, this machine is one of the lightest powerful tools on the market. When it's hot and humid, you just can't overestimate fast and efficient work of the Porter-cable sander when all the dust goes into the bag and the power sander saves you tons of time. Yes this machine is nearly 3x the cost of a pole sander, but for a professional work it is the best choice. The cheaper models are heavier and put the motor at the head which makes the top heavy and uncomfortable, especially for working all day.
Best Cordless Drywall Sander
Cordless sanders are the future without doubt. You still need to pair the tool with the vac and it can also be battery powered. Some machines have a wireless control allowing users to automatically turn off and on the dust extractor. Remote pairing with the dust vac helps to extend dust extractor battery life without manual control.
Battery powered tool are heavier because of the battery weight, but it is usually located near the handle and it helps to balance the weight. For example, DeWALT DCE800B is 13 pound device with 20 Volts brushless motor that can be used with Dewalt cordless or another shop vac. The price without battery and hose is about $440.

In my opinion, cordless drywall sander is the best tool in small remodel applications niche. I see the following uses: paint prep (improve adhesion by sanding and vacuuming at once); drywall patches; flattening veneered walls; finishing flat wooden surfaces.
Best Drywall Sanding Pole
Even if you use the electric sander on all the flat large areas, you often need to use a pole sander on inside corners. Most of the the power devices doesn't reach all the way there. If you don't have to sand all day long, pole sanding is not that difficult. Just don't strain, work measuredly and unhurriedly. I would also not use the power tool for final sanding, the pole one is better at this.
One of the best classic rectangular sander s are made by Columbia taping tools. They are professional units with a reliable and convenient heads with low gravity center to prevent flipping. The paper is fixed with quick clamps for easy install and removal. The surface is equipped with a rubber pad. The locking screw prevents the sander from coming unthreaded while sanding. Overall quality is nice, the head is stable a lot more difficult to flop over on you. The pivot works very smooth, much better than in the cheaper tools.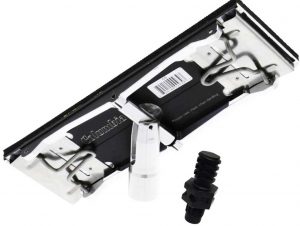 A round 360 pole sander is also a good tool to try. It is multi-directional, doesn't flip over and removes a lot of material really fast. Round sanders also have a foam pad behind the hook and loop where the disc attaches. In this way you can get full pressure and press down hard. Extra foam helps redistribute the pressure doesn't create extreme friction causing the wall tearing.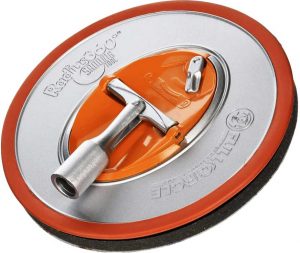 The Radius360 attachment fits a standard extendable Woolster and similar painting poles. You can also attach a shop vac hose to the painters pole, it  will significantly reduce the dust in the air. Sandpaper discs in the pack are pretty cheap and they will last you entire house painting project and more.
Conclusions
When I've borrowed my first drywall sander, I thought it was slower that pole. This tool is just like any other new device, you should use the unit for a few days to get used to it and to be more effective. But when you learn to work with this tool, you will never go back to manual sanding.