The hole saw or a hole cutter, is made for making holes without cutting up the core material. They drill holes faster and use less power than twist drill bits, and it often makes whole saws preferable for large holes and tough materials. We've made for you a review of the best diamond hole saw on the market
Product
Description
Our rating

Best Diamond Hole Saw by Neiko: Bit Set, 5 Piece | 5/32″ – ½" 5/32″, 1/4″, 5/16″, 3/8″ and 1/2″, 1/4 inch shank

Cutting blade made from a premium grade of diamond with burn resistant braze to deliver more effective performance than traditional carbide or bi-metal hole saw.
CNC machined tip ensures clean and accurate hole cut up to 3/4″ deep on hardest and abrasive materials like glass, tile, granite, marble, other stone and porcelain.
Solid one-piece alloy steel construction with heat treatment and extra thick wall for added durability and long-lasting service.
These bits are much cheaper than some masonry bits. For the money these are outstanding little hole makers. Cut glass with ease. Work well, and If you use water or other coolant fluid, the cutters will last through many, many cuts.
As for all diamond coated tools, you must follow some rules.
– Go slowly in lower speed and low pressure. Take your time.
– Either use a spray bottle or a large sponge placed above the drill area to constantly cool/lubricate your bit or you will ruin it rapidly.
– It takes a lot of practice to drill the pilot hole to begin your drilling. To keep the saw from wandering from the desired hole location, drill the same size hole, in a wooden paint stirrer and tap one securely to the wall/plate/etc.
– Take some breaks to let your bit cool off and clean it out.

Best Diamond Hole Saw Set by SE – Grit 80 Shank 1/4″ , 2 Piece Grit 80

Useful for cutting holes in tile, glass, marbles, gemstones, slate and while doing construction, home improvement, hobby and craft work.
Take less than 10 seconds per bottle to drill a perfect hole through.
Slow speed, light pressure and water are necessary.
To drill without a pilot hole on a slippery surface follow these tips:
– begin drilling on an angle until the surface has been scratched enough to hold the hole saw in place.
– you can use water or any vegetable oil by dipping the drill bit in the oil every few seconds or when the surface begins to appear dry, keep the drill wet.
Bits did exactly as advertised and were a good price.

SE DH6HS 6-Piece Diamond Hole Saw Set with Grit 80 & Shank Size: 1/4-Inch  5/32″, 3/16″, 1/4″, 5/16″, 3/8″, 1/2″ Nickel plated

These don't fit in a Dremel tool collet, so if that is your tool of choice, keep looking.

Most of the negative reviews are from masonry drill users, who press on a dry diamond coated saw like hell. Any bit will die in seconds. As usual slow speed, light pressure and water (oil, or another coolant) are necessary.

You can push harder at first, but lighten up when you are getting close, so you don't push thru the glass – you want the bit to slowly cut thru it at the end. (not a big deal if you do push thru, just leaves a little crater on the inside, not all that visible).

Start your cut at a 30-degree angle. Don't move the bit until you have cut a C-shaped "seat", as this will keep the edge from skipping all over the place.

Forcing your cuts will result in breakage more often than not.

Work best with an AC-powered hand drill or a full-sized drill press. Cordless drills generally don't produce the torque and RPMs these hole saws need.

SE DH10HS 10-Piece Stone Diamond Hole Saw Set in Wooden Case, Grit 80

Drilax 8482; 5 Pcs Diamond Drill Bit Set 3/8″, 1/2″ (0.5 In), 5/8″, 3/4″, 1″ Wet Use for Tiles, Glass, Fish Tanks, Marble, Granite, Ceramic, Porcelain, Bottles, Quartz – Lot 5 Diamond Coated Drills – Kitchen, Bathroom, Shower, Lamps Drilax051025

Diamond Dust Hole Saw for Tile / Glass/ Marble / Granite / Ceramic / Porcelain / Stone.

Original Drilax zipper PU storage case – foam insert for all bits.

Available return for full refund. Bits are to be used with coolant. No pilot drill needed.

A good set of hole saws for about the price of one hole saw at a home improvement store. They worked great, made a very clean rim. In most cases for home use you don't need to buy more expensive bits. Just keep it cool, do not press and wait. It will do a perfect job.

OUR CHOICE

Best diamond hole saw by DRILAX – 3 Pcs SET Bit Set Granite Glass Tile – Tools 3 Piece Diamond Dust Hole SAW Drill BIT for Ceramic Tile Marble Rock Porcelain – 1/2″ -3/4″ – 1″ Inch In

uxcell® 1/2inch Diamond Tipped Hole Saw Drill Bit for Ceramic Tile Glass

Drilling Diameter: 12mm / 1/2″; Shank Diameter: 6.5mm / 1/4″; Total Length: 50.5mm / 2″. Package Content: 1 x Glass Hole Saw

Excellent drill, good materials. The bit works smoothly. With a light touch and soap water for cooling, it drills like a champ. Good bit, the price is right and so is the performance.

Some customers cut with one bit more than a hundred holes into wine bottles and keep working. You do need to make sure you use water to keep the blade from overheating and control the pressure (light).
Summary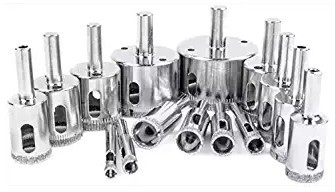 Article Name
Best Diamond Hole Saw Review
Description
The hole saw or a hole cutter, is made for making holes without cutting up the core material. They drill holes faster and use less power than twist drill bits, and it often makes whole saws preferable for large holes and tough materials. We've made for you a review of the best diamond hole saw on the market
Author
Publisher Name
Publisher Logo