5012class="post-5012 post type-post status-publish format-standard has-post-thumbnail hentry category-hand-tools"
Choosing Best Survival Multi Tool for Backpacking,Camping, Fishing, Hiking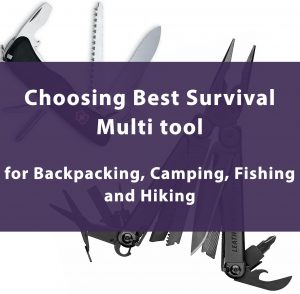 Every hiker likes having compact files, pliers, saws and a few other tools on his belt. Especially, if it is light and compact enough to don't notice it there. Of course, the multi tool is often only a complement to plain tools, but if the all-arounder tool is strong enough, why not? This is not to say that I am a survival multi tool fan. I never used to carry an EDC multi tool. Although I use Leatherman multi tool around the apt. I usually carry a Swiss Army Knife when camping or hiking. My tastes change over time and now the best survival multi tool for me is Victorinox Swisstool Spirit, and it feels smooth, compact and I don't feel clunky with it.
Best Survival Multi Tool
In my opinion, the best survival tool you can have is a solid knife.  If you are forced to take just one tool, take a knife. Therefore, if you don't have a good knife, my advice is to choose and purchase it.
Good example is an ESEE 6 fixed blade knife. It is a made in USA 6.50″ carbon steel blade knife with an ambidextrous polymer sheath. It is made of 1095 carbon steel, 55-57 RC and comes with  no questions asked lifetime guarantee.
The knife is razor sharp right out of the box and you'll love the handle ergonomics! The flat grind is allows you to resharp it with a river rock. The knife is perfectly balanced, with its contoured handle and 5 3/4 blade you can deal with any task from camp task to major work.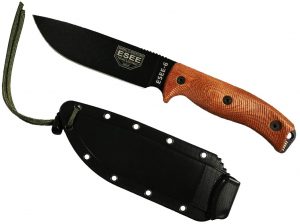 As for the multi tool itself, I think you can't go wrong if you'll purchase Leatherman Wave. It's pretty tough tool, I've used the pliers for breaking steel banding on pallets as a test, it worked well and without a problem.
I will not claim that if it's the best multi tool for survival, I would trust it.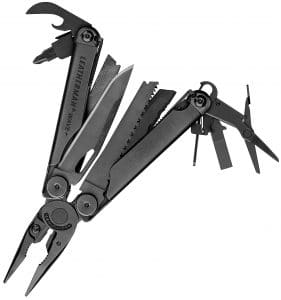 I keep a Wave attached with a Maxpedition single mag pouch which is attached to the ESEE 6 sheath. With a firesteel and a led flashlight this  is the best of all worlds in a single small package.
My building maintenance friend carries a Leatherman Charge for everyday use and uses it very often. Few months ago he broke the jaw and Leatherman sent him a new one.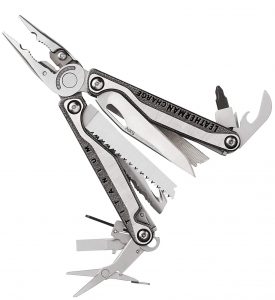 So, for a handyman, the Charge can be a great tool for everyday and camping, it's really sturdy and versatile.
Once again, I love multi-tools, however for survival tasks they never replace a good knife and can only serve as a supplement.
Best Multitool for Backpacking
A multitool for backpacking should be light and portable. I think, you don't really need the screwdrivers, etc. For me, the best multi tool for backpacking is a Leatherman Micra. And a pocket knife as a separate tool.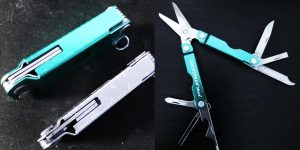 Leatherman Micra has the best scissors you can find on a multi-tool and the spring that won't break. It is claimed as keychain tool, but in my opinion Micra is a little bulk heavy for it. Nevertheless, it is great multitool for backpacking: capable, well designed and compact.
As I've mentioned above, the knife is the most important tool for hiker. Therefore, I carry a good fixed blade knife for cutting and a Micra for eyeglasses screwdriver, scissors and bottle cap lifter. And you should remember: it is a multi tool. Yes, it is versatile, most likely won't outperform full size knife.
Another good multitool for backpacking is a Victorinox Swiss Army One-Hand Trekker. It is a great tool to carry during backpacking trip. It is made of 1.4110 steel which is roughly equivalent to 440A and it has fantastic performance. The steel is very resistant to rust, can take a serious beating but still it can be easily sharpened. It is a breeze to sharpen compared to trendy powdered steels. You you just grab your ceramic or Arkansas stone and take a few passes to bring it right back to shaving sharp.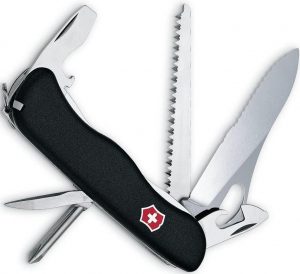 The main blade has a great utilitarian design, it sports a Kephart blade pattern, nice polished uncoated finish and has a good balance of thickness of the spine vs thinness at the start of the secondary bevel. I also like the thumb opener on the blade.
The multitool saws made by Victorinox are leading in industry. This particular saw has aggressive double-sided teeth that cut wood efficiently, and the stiff handle helps keep the tool from snagging in the wood. A sharp 90 degree spine of the saw is able to produce great sparks of a ferro rod.
Overall, this is a good multitool for backpacking, not too heavy and fairly inexpensive – around $40 on Amazon. The only downsides are that it has no pocket clip and no locking feature for the saw.
Best Hiking and Camping Multi Tool
For car and simple tent camping, as usual, a multi tool is a companion for a fixed blade knife and tools. Leatherman Wave is my best camping multi tool for over 3 years now. It as well pairs extremely good with my full size knife. The most used part of are the pliers and the serrated blade. I use the serrated blade a prybar, scraper, chisel and for cutting tough things that would dull the knife. The file come in very handy at times and the saw is almost the same length as Victorinox Camper has.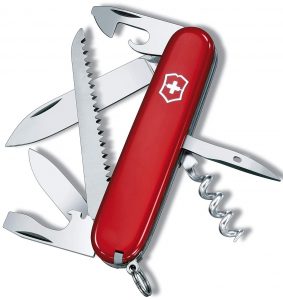 The choice of the Wave for me was due to the fact that I like its pliers very much. However, not all of my friends consider it necessary. If you don't need pliers, Victorinox Camper is more compact tool. The Camper is a thin and lightweight but very helpful when camping.
It is very pocketable, has standard 2 blades, openers and the screwdrivers read also (best screwdriver bit set). The saw will cuts any little branches fast so you can build a nice fire. I have recommended this camping multi tool to friends and bought several as gifts as well.
Best Fishing Multi Tool
The best fishing multi tool for salt water is a stainless Gerber MP400 Compact Multi-Plier. It doesn't rust and  are very easy to clean and dry. The lock function works well, the scissors are sharp and versatile, the blade is good and sharp also. Gerber MP400 works for years, I've seen the tool after 5 years daily use and they still look as good as new. There was no loosen and broken parts and the case was still in one piece.
The multitool is relatively compact and very easy to carry. The pliers are comfortable and durable, and what I like the most is the ability to pull them out with one hand.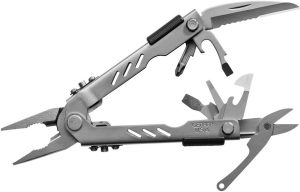 For fishing in freshwater, fly or spin try anything made by Victorinox with scissors and pliers. I would suggest stainless steel Victorinox Spirit.
Its pliers are long enough, and the multi tool is designed rather thinner than others. In this way it is able to get in most fish mouths, and hook extraction is very important for fishing. You can also open the tool with one hand, very convenient – the fish in one hand and the tool in another.
Scissors work well for line cutting, fishing, etc. Maybe you'll need to re-profile the main blade, and it doesn't have to be too pointy. I prefer to use a dedicated fixed blade for gutting fish. It is bigger and my multi tool won't get stinky!
Best Survival Axe Multi Tool
For a mostly car camping I have several axes including a Gerber Gator Combo Axe II. It works well and meets all camping needs.

I keep this in the car for occasional camping need. It is a light tool with a nice saw, it is a great addition. One of the best thing the hatchet is the a lifetime warranty. You can find reviews with broken handles near the head. Maybe, but even it this case Gator replaces their product with another Axe. Myne tool work several years with any problems, but I agree, it doesn't feel as sturdy as a regular hatchet.
If you  want an indestructible tool, I wood recommend Estwing hatchet. It will be a heavier than the Gerber, but it will last for decades with minimal maintenance. I would say it depends on your needs, ruggedness, or light weight.
This is a great axe – all one piece of forged steel, you can strike the handle next to the head to finish the split. Convenient thick rubber handle reduces the shock a lot, extra length allow you to chop with more force than with lighter hatchets. You can pry with it as well, the handle won't break off.
Nylon sheath fits snugly and come with two secure snaps, the handle has a hole at the butt end for a loop of cord.
Conclusions
You should remember, that multitool, including multitool axe, is not so tough as regular one. If it has a a pliers, they won't work as well as a real pliers, multitool isn't so comfy or easy to use as an screwdriver, and you won't saw down a  tree with its saw. But, you CAN do all this stuff with one tool if you really need.
Posted on
Categories
Hand tools