Any nail technician spends a lot of working time removing acrylics or gels enhancements. Using electric nail machine makes work easier, faster and also allows you to quickly backfill, shape and clean the nails with a special drill bits. Using high-quality nail drill can save you a lot of time and efforts. The device is not that expensive, so any technician will tell that you should find the best nail drill, either you are a beginner or a professional. Higher cost of the good device may pay off in several procedures.
We've consulted with many nail technicians and will explain here basics about nail drills. In addition, based on the experience of the nail masters, we reviewed the best products in the market and our recommendation for professionals are Kupa MANIPro passport nail drill as the best portable nail machine or full size 3-in-one combo machine. For beginners and personal use we recommend AIRSEE Portable e-file.
Main features of portable nail drill (e-file nail drill)
With electric nail machine you can handle nails, calluses and cuticles, they allow you to shape the nails and enhancement more precise and effective. With the device it's so easy to achieve a quick and high quality results, that you'll never go back to regular nail files.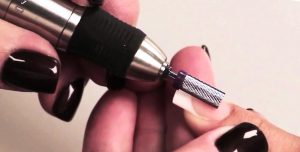 Electric nail drills differ in size, capacity and rotation speed. Some of them are powerful enough only for natural nails, and others are designed to work with acrylics.
The speed is in a range between 10,000 RPM to 40,000 RPM. If the electrical, and therefore mechanical power is sufficient, then the higher the revolution per minute (RPM) number the more efficient the machine is.
Most of professional nail drills are 30 000 – 40 000 RPM corded or cordless electric machines that come with a foot pedal to allow hands-free operation. Almost all devices allow to to adjust the speed down based on the amount of filing.
Nail drill bits guide – different nail drill bits and their uses
Usually the drill comes with starter kit – multiple drill bits that for the most part are 3/32″ size. The sharpness, effectiveness and durability of a nail drill bit is very important in your work so don't use just any cheap low quality product. Usually cheap nail drills come with really rubbish bits and you shouldn't use them at all! We'll describe more about different nail drill bits and their uses below.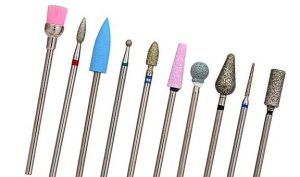 The price and quality of nail drills vary, but we advise choosing really good tungsten carbide tools from a good brand such as ProTool USA or ToDac USA. They have superior strength, durability and sharpness, work with minimal friction and heat generation. The service life of such a bit is measured by years of practice, so $10-20 for a bit is not that expensive.
Best nail drill bits types
Diamond nail bits
Diamond bits are made of synthetic diamond crystal on metal base, and they are the hardest tool available. Another advantage is that diamond tools don't rust after disinfection and water cleaning.
Most of cuticle drill bits are made of diamond. They also are able to scratching hard build-up material off, but create a lot of dust, friction and heat.
Carbide nail drill bits
Carbide is the hardest (but brittle) of the drill bit metal alloys. They are designed for the most hardest and demanding materials. They are very long-lasting and usually have flute-like cuts on cutting head. This form helps to shave the enhancement material off. Carbide tools don't scratch the nail like the diamond ones and work with less heat build-up. The bits can be cleaned and disinfected without restrictions.
The dipper and larger flutes are, the more coarse grit is. Finer bits come with shallower flutes. Carbide nail drill bits are a great tool for advanced technicians and are the best tool for removing acrylics.
Ceramic bits
Ceramic is hard-wearing, sharp and durable material. It's main advantage is an excellent heat dissipation, the tool won't be burning hot in long-time use like metal bit. Universal 3/32″ steel shank suits for most electric nail drills.
You can buy ceramic bits in different shapes and sizes, coarse and fine, large and small, etc. The material is corrosion resistant, as well as no clogging for nails. The surface is easy to clean with water.
Nail drill bit uses
You can use your nail bits to remove nail enhancements quick and easy, for filing or shaping nails.
Cone carbide bits which are excellent for getting in those hard to reach areas; backfill carbide bits which were specifically designed for doing backfills on pink and white nail services; under nail cleaner carbide bits, which allows you to easily and quickly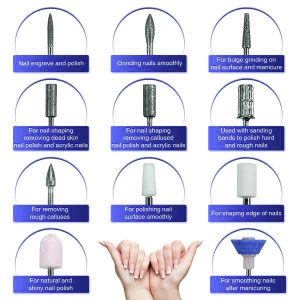 Getting a high quality tungsten bit helps to do you word quickly and more efficiently use the power of your nail drill for removing gel and acrylic nails.
But there are many nail drill bit types and you may be don't want to by all of them and try each. So, the question is, which type of nail bits would be able to remove acrylic and gel nails the fastest/easiest?
I highly recommend the ceramic smooth top and cuticle drill bit, but usually they are not to be used on the natural nail.
Safety Nail Drill Bit Set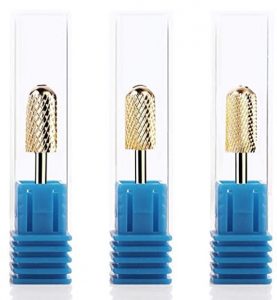 Let's look at the use of nail drills with an example of Safety Nail Drill Bit Set. The set consists of 3/32″ bits made of metal with tungsten carbide. The are  durable and wear-resistant and has the most universal and safe form – a barrel with smooth top.
The shape of the bits make them beginner friendly. The top is smooth and you don't hurt the tips of the fingers when using them. The bits are easy to use, they are extremely effective when smoothing out and shaping the nails after acrylic application and work very gentle around cuticles.
The bits are suitable for gel nails: nail polish, dip powder, nail extension gel. They are also suitable for left-handed.
There are three grits bits in the set:
"F" – Fine Barrel Bit. If you are removing gel polish on the natural nail, then take this lower grit nail bit and lightly drill the gel polish away. Don't polish actual nails too much or you'll damage them and they'll become thin and brittle.
"C" – Coarse Barrel Bit.  If you are working with a thick gel polish on acrylic nails, then use the "C" grit file to remove away most polish and acrylic.
"M" – Medium Barrel Bit – use when you are if you are getting close to the nail or base acrylic layer that you don't want to remove
Using a low-speed operation and gentle handling is helps the bit to get clean during work. You can also easily clean the bits by soaking it in acetone, and then brushing it with a cleaning brush.
Best nail drills 2021
Best nail drill for beginners
You should understand, that using electric file needs caution. It can be dangerous for you and your patient. The best way is to wait until you're confident and experienced with manual application and removal before you use nail drill. After it, if you want to be nail technician, get some training. The course is usually inexpensive and only takes one day.You will be more confident that you will not burn the patient or damage the nail.
And be careful even if it's for removing your own gel nails because it's more difficult to control handpiece with your non-dominant hand.
Best nail machine for beginners can't be the cheapest one. Many of nail technicians initially purchase a budget drill but it is a waste of money. You should feel confident and in control using the your electric file. No name low quality devices have a lot of vibration and the client will also feel this.
AIRSEE Rechargeable 30000RPM Electric Nail Drill
AIRSEE Portable file is a compact device for common 3/32" shank drill bits and 20 000 RPM. This is an ultra-cheap option for 20% of the Kupa cost. And of course, you cannot expect the same level of reliability and performance.
Almost absolutely identical version of the machine is MelodySusie Professional Rechargeable 30000 rpm Nail Drill – all indications are that both products are branded versions of the same design made in China.
You can buy the handpiece of both nail drill models alone and they come with six months free replacement warranty.
Conclusions
The advantage is that if you are a beginner master or a nail tech student, you can buy the device for only a fraction of the MANIPro price. This file is not so reliable, but it's portable and powerful. The LCD screen is informative and convenient. And unlimited 6-month warranty gives you confidence that you will have enough time to decide how successful you are in the profession and whether you are ready to invest in expensive professional equipment
MelodySusie Electric Nail Drill USB Type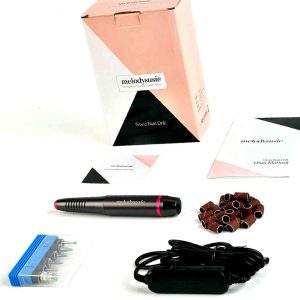 This 3/32" shank compact nail drill work from USB socket including: power banks, AC adapters, car chargers.
The device comes with six kinds of metal bits and 26 sanding bands. The speed control is performed with an adjustable button, the maximum set is 20,000 RPM. The handle is pretty compact, lightweight and easy to handle.
But despite the advertisements, this machine is not designed for salon use. It lacks power and low speed reduces productivity.
Nevertheless, any woman faced the problem of a damaged nail, which urgently needs to be corrected and polished, and there is no time to visit the salon. For this case, it is worth spending about $20 to have a simple "rescue" device on the shelf.
Best professional nail drill machine 2021
Professional nail drills are powerful devices that can work for a long time without stopping. The reliability of such devices is sufficient to withstand an operating mode of 8 hours a day and 7 days a week for many years, usually 10+. With them, you most likely will not have problems with engine overheating, insufficient power, increased drill vibration and other things. Nonetheless, the best professional professional nail drill machine will be quite bulky even in 2021. These are table drills, you can't just put them in your bag and go make gel nails for your sister.
The higher cost will quite quickly pay off if you work in the beauty center. For private use, or if you are not sure about the flow of customers, it is better to choose the compact and much cheaper "starter" model. If your business will grow, you can always buy a truly productive professional model.
Kupa Mani Pro Passport nail drill (nail file)
Kupa Mani Pro is a fairly well-known brand among manicurists. The Passport series machines are wireless, which limits long-term operation under heavy load. Nevertheless, this series of nail drills provide a high level of quality and reliability. Service support is also one of the best among the competitors.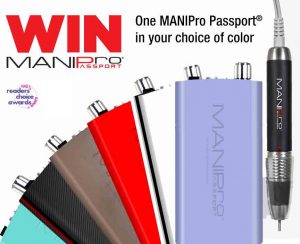 The control block comes in red, purple or white acetone resistant finish and powers the engine for 8-10 hours of work.
You can buy Kupa MANIPro Passport machine with or without handpiece. The handpiece costs about 70% of the total price. It's manufactured from stainless steel and features a smaller nose and rubber grip. The weight is  5.6 oz. The unit comes with strain relief cord and is also compatible with older versions: KP-5000, UP-200, UP200-V and Upower 2-G.
Conclusion
Kupa Mani Pro Passport nail drill is a portable machine with good speed and power. It's good for beginner but it's a little pricey. The quality is OK, but on high speed the drill bit tend to get loose when you shorten the acrylic nail.
Marathon K38 Portable Wireless Nail Drill Machine
Marathon K38 is portable (67 x 128 x 30(mm) / 2.64 x 5.04 x 1.18″), and lightweight (140g) nail drill with digital speed display and on/off foot switch.
The engine is powerful enough, it has 30 000 RPM with high torque 1.9Ncm. The Li-Ion battery allows you to work for up to 8 hours with overload protection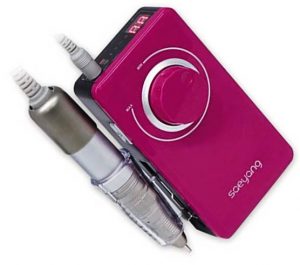 The only unpleasant thing with the machine is that you have to change the battery in the control box when it can no longer hold charge. You although can work with the power cord. The battery lasts about 3 years and gradually loses capacity.
Professional nail drill with a dust collector and manicure desk Lamp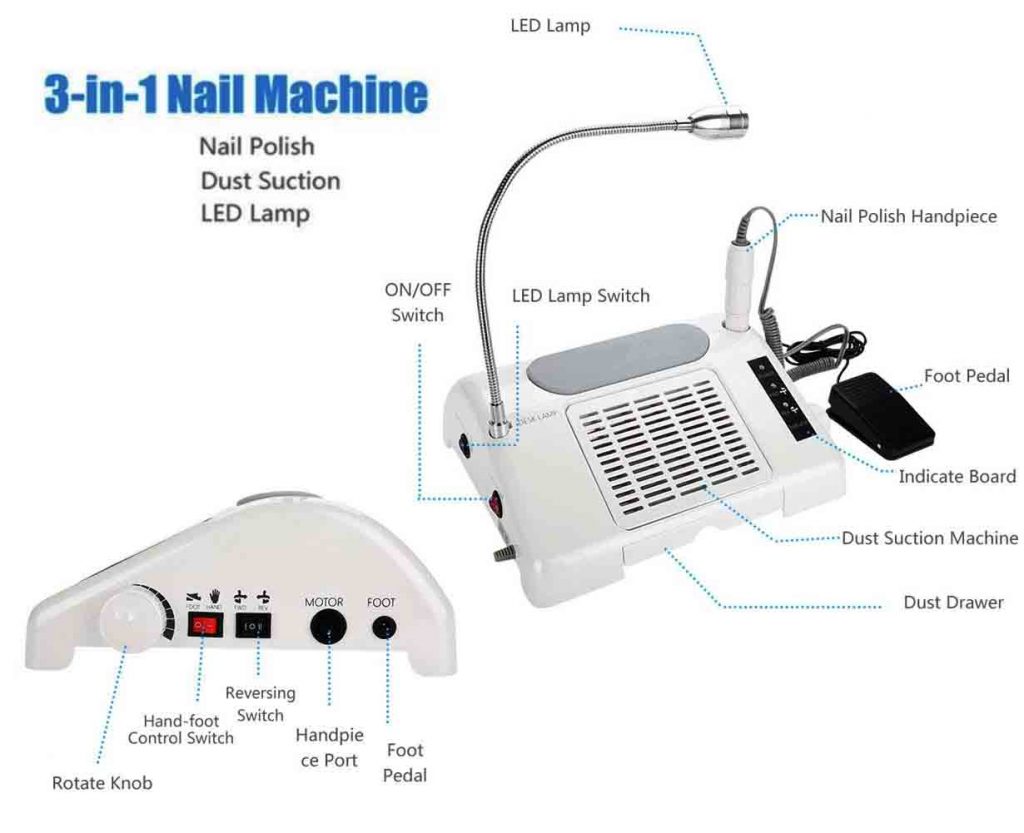 The use of nail drills without personal protective equipment, is an occupational hazard to the healthcare technician (wiki). Nail dust on the skin can cause irritation and shavings of nail gel or acrylics can be inhaled.  Moreover, the dust could be swallowed while drinking and eating.
Hence, dust suction devices are essential for the nail technician. So why do not use multifunctional nail drill with a dust collector?
Another feature of the professional machine is two-way control: hand regulator + foot pedal operation. You can choose what is more convenient for each procedure.
Nail drill motor works with 35 000 RPM maximum speed and it's power is 65W – much more than portable devices usually have/
The device comes with the set of moderate quality nail drill of 6 different sizes for polishing and grinding work.
Conclusions
Electric files are not all the same. If you work with it for a long time, comfort and efficiency are very important.
Machine handpiece it should be light and powerful enough to file the length of nail and enhancement down without the file stopping. It must not vibrate too much when working, vibration distracts you and your client and degrades the quality of work. Low quality machines sometimes also don't keep the drill bits straight and steady.
If you are nail technician, better to purchase professional and usually more expensive machine. Higher initial cost will pay off it in the long term. But for a beginner, the Airsee device may be enough and it is five times cheaper.
And remember, the safety is first. Before using a nail drill bit be sure you have enough experience. Practice with an usual file for same time. Then you can take one-day learning course about using nail machine. When you will decide you are comfortable enough with your e-file to work on the clients, I advice always ask new clients if they are OK with using the device on them. Some of them don't like nail machines if they have been burnt or cut by one before.
Good luck! Go for it and you will succeed!