Drill Bit Sharpener Review
Product
Description
Our Rating

Drill Doctor DD750X Drill Bit Sharpener

OUR CHOICE

Designed to handle larger drill bits up to 3/4″, ideal for sharpening 3/32″ to 3/4″ bits with one chuck, compatible with any angle from 115 to 140 degrees.

Alignment of bits over 1/8″ is done with the chuck by inserting it with the bit into the alignment slot. With bits smaller than 1/8″, you have to insert the bits into the alignment slot without the chuck initially and then slide the chuck over the bit after.

You can also use it to convert standard point bits to split point bits. After sharpening, the tips of carbide masonry bits seem to have a more angular look than the original tip, but they work excellent.

Most bits took well under one minute to complete, and I wasn't even hurrying. Almost all came out right on the first try. Any mishaps where easily fixed by simply repeating the procedure over again.

It's safe to say that most bits in reasonably good shape can probably be sharpened at least eight to ten times.

One of the biggest and probably the most overlooked advantages of the 750SP is that it can also sharpen up to – SDS type masonry bits.

Supposedly you can get about two hundred sharpenings from one grinding wheel.

Replacements grinding wheels cost twenty dollars and come in 100 grit or the standard 180 grit.

It works extremely well and requires a minimal learning curve. Additionally, having sharp drill bits readily available can go a long way toward helping reduce job productivity losses.

Drill Doctor 500X 3/32-Inch to 1/2-Inch Drill Bit Sharpener

Ideal for sharpening high-speed steel, masonry, carbide and tin coated bits.

Sharpens 3/32-inch to1/2-inch standard twist bits and creates split points.

Sharpens high-speed steel, masonry, carbide, and TiN-coated bits

Read and understand the instructions before beginning. The machine does the rest. It is important to know how the tool works, and why you will ruin bits if you don't follow the instructions. This is not a hard machine to use but the success is very dependent on the technique taught in the video.

The Drill Doctor 500X will paid for itself in about 2 hours of use. You can alter drills into split points. The machine has a somewhat loud squeal when running, but it isn't too bad. Changing the diamond wheel is straight forward and easily done.

Drill Doctor DD350X

Constructed as a value-priced drill bit sharpener the Drill Doctor 350X Drill Bit Sharpener is ideal for shops that use the most common bit styles and is compatible for use with wood and light metals. The new easy-to-use design features a front-loading chuck with simplified alignment and sharpening procedures. Easily sharpen 3/32″ to 1/2″ standard twist bits with 118 degrees or sharpen high-speed steel, masonry, carbide and tin coated bits. Sharpener uses replaceable diamond sharpening wheel.

When you first get it, sharp several high-speed steel (HHS) ½ bit for practice. If you have split point or like split point bits, better get the xp or 500x. Clean the chuck often. Make sure to watch the 7 min. video before your first try. DD350X does not grind drill bits into the convenient split end shape, higher models do that.

Product works well with metal and carbide bits. The only difficulty is with the small 3/32 bits. This will just take a little more practice.

Grizzly Drill Length Sharpener

Grinds and sharpens 1/8″ – 3/4″ bits.

Does a fine job and it is a lot less expensive than a Drill Doctor. This tool works well with bits larger than 1/8 inch. It works, but unless you understand all of the different angles of a drill bit tip and how to line the bit up with the face of the grinding wheel to achieve the shape you desire then I suggest going with something like the drill doctor to save yourself hours of frustration.
Summary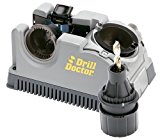 Article Name
Drill Bit Sharpener Review
Description
Drill Bit Sharpeners are ideal for shops that use the most common bit styles and is compatible for use with wood and light metals. The design features a simplified alignment and sharpening procedures. you can easily sharpen standard twist bits, sharpen high-speed steel, masonry, carbide and tin coated bits. Most of sharpeners use replaceable diamond wheels. Read our review to get the best tool
Author
Publisher Name
Publisher Logo