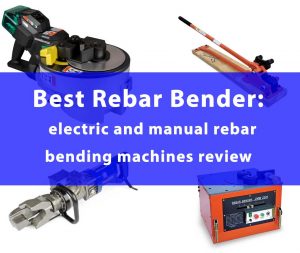 If you have a lot of custom bends and cuts, rebar bender is a GREAT tool. One of my project included bending about 500 braces with 2-3 bends each. I can't imagine how I'd made this task so quick and accurate without my manual rebar bending machine. Since that time I have had many other bends, and it was so much easier with the tool than with a homemade jig.
Best rebar bending tools
Manual rebar bender
I don't really like open jaw manual rebar bender type, cast iron heads,  feeded from either side are better. Anyway, maximum size of rebar to cut and bend with a manual tool is usually 5/8″ grade 60 rebar. You should consider that it's hard and wont bend a full 90° without taking an extra "bite".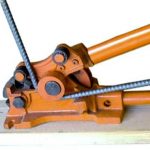 BN Products manual bender and cutter has a long handle and a cam mechanism that with greater leverage. Comes mounted on 2″x8″x60″ wood base with adjustable 2-1/2″ bending roller, replaceable cutting jaws and a lifting ring with chain to make it easier to carry. It is heavy duty device. Even if you buy it for a single project, you can resale this any day of the week after your done with a little discount.
Crescent HK Porter 3/8″ and 1/2″ manual rebar bender is an improved "hickey bar" to bend No3 and No4 rebars. You can regulate the leverage from 21″ to 35″ with a pushbutton. The indexing head helps to grip rebar securely for more convenient work. You can also purchase single-sized No5 and No6 models.

The tool is tough and very versatile. It is able to pivot the head to make bends in tight places in a more convenient way. The extendable handle is an awesome design, allows to set the handle length just right and makes the tool easy to store. The bender provides way better leverage than the other designs available.
Electro- hydraulic rebar bender
In this section, we will discuss a combined electro-hydraulic rebar bender – a machine that uses a hydraulic plunger and an electrically driven oil pump.
There are many tools of this type on the market and almost all of them have a similar design under different brands. One of the best of the hydraulic rebar benders is a Happybuy 800W

The unit comes with a low noise electric motor that is able to bend #5 grade 60 rebar within 5 seconds. Bending angle is set by adjustable positioning bolt to work with any angle up to 130°. The size and weight allows you to carry and operate the tool with two handles.
With the hydraulic rebar bender there is no need to pull the rebar out of the pit or use a leverage. Just measure and mark the bar and pull the trigger. The only downside is that this thing is hard to carry around. But, nevertheless, it is a fast, simple and efficient unit. The Hitachi tool we will discuss below has no hydraulics (so it's simpler and more reliable) and has electronic angle adjustment, but it is much more expensive.
Electric rebar bender
Hitachi VB16Y Rebar Cutter/Bender is one of the best portable electric rebar bending machine. And if you really need table bender, you may make table around it pretty easily. But now when we have a lot of bending and cutting to do, I work off of the trailer. Its deck height is a lon more convenient than working off the ground. From the trailer, I make the repetitive turns easier and more accurate.
VB16Y electric portable rebar bender comes with 530W motor and uniformly bends up to No.5 Grade 60 rebar up to 180 degrees angle. Cutting and bending is made in about 3.1s and 5.1 s respectively.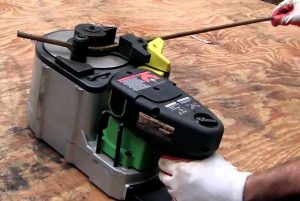 In my opinion, this portable rebar bender/cutter is a must have for any  professional concrete installer. Nothing will beat portability and accuracy of this microprocessor controlled device. Of course, the bigger table top models are nice but at 200 or so pounds the manufacturers version of portable and ours are different.
Tips and tricks
Do not bend the reinforcing bar more than the specified diameter, primarily for reasons:
Too small bend diameter can cause damage to the bar which impairs the tensile strength of the bar. Tight bending frequently result in outright fracture and may also result in microscopic damage which is not evident.
 Less than ACI/CRSI minimum diameter bends do not reliably perform in concrete. They can lead to excessive crushing of the concrete inside the bend and fracture of the bar.
The challenging part is getting the first little bit of the radius to actually be a radius.
The more the inner bend diameter, the less force you need. The difference between a 10″ and a 5″ diameters is about 100 tons.
Manual tools are good for 1/2″, but if you need to work with a lot of 5/8″, spend the extra money for the hydraulic rebar bender
Conclusions
If you are not professional and make a handful of simple right angles, buying bender not worth it. You always can make a jig or use a tube. An oxy-acetylene torch outfit is good to cut the rebar, and  you can bend BIG rebar when you heat it up with the torch
For regular use my advice is to buy a BN manual bender for a couple hundred bucks, for professional use a Hitachi VB16Y for about $2000 is great. Serious daily bending needs a table top for about $3500.