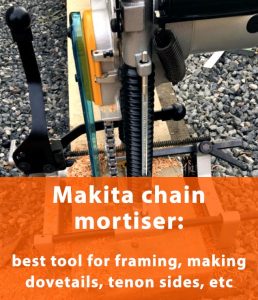 Chain mortiser is a unique tool helping you to do framing quick and effective. It saves more than enough time and efforts to justify its cost of use. Of course, you always can make frame mortises with chisel and drilling work, but your shoulder and wrist joints won't thank you, especially when you are getting older. Nobody of my professional woodworkers regret buying the chain mortiser. They also use it any time that they need to hog out material – dovetails, sides of tenons, mortises, etc.
Chain Mortiser: Why Do You Need It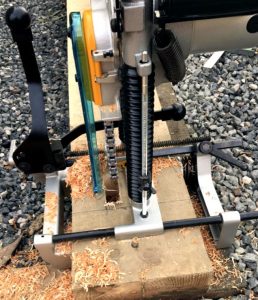 Timber framing is very labor-intensive. And if you use only hand tools it gets just crazy. It you need to finish the barn before you get old, use power tools and don't underestimate the labor involved. I have the Makita chain mortiser, and it's brilliant and fast. The machine is easy to use and cuts very quick once you have got everything marked up. It's also no problem to come in from both sides on larger pieces.
A chain mortiser can be a bit intimidating at first, but you'll get used to it  pretty quick. And although it isn't often noted for accurate work, you can repeatedly and comfortably use the unit to within 1/8″ on your layout lines with the balance being finished with framing chisels.
Stationary chain mortisers are also widely used in the furniture industry. The horizontal slot mortiser is the best choice for a small shop to produce accurate and repeatable results, even with a novice operator. The low rpm is convenient for horizontal boring and dowel drilling.
The size of mortise required on almost any oak framing is too big (say 40 wide, 150 long and 100 deep in a 200 x 200 beam) for a  mortising attachment and square hollow chisel drill bit. Another advantage of the chain mortiser is mobility. You can't get a piece of 200 x 200 oak into a pillar drill. With a mortiser, you carry the unit to the post. You can even make a mortices high above the ground, with the machine clamped to a vertical beam.
Of course, you can get a good forstner bit the size required, drill out as much the wood as you possible and pare back the rest with a chisel. Or just use a chain mortiser and do it quickly.
Makita chain mortiser
Even if you only do one project with your Makita chain mortiser and sell it on it will be worth it in the efforts you save. This fantastic tool will save you days and your sanity! 12 amp 100 volt models have enough power to use it without any problems.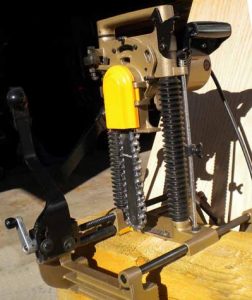 Mafell chain mortisers are top end machines no question, the Festool units are a beast as well. Both are pricey, but the Festool is waaaay tool expensive. The Makita is a little slower but affordable option.
This chain mortiser is productive and reliable machine. You can use it for months and years with tightening and oiling the chain as the only maintenance. The chains are quite expensive, but you can cut each beam for a 30 x 50 foot barn using the original chain. Just let the weight of the unit do the working and don't force it too much.
Chain mortiser tips and tricks
Do not rush
A chain mortiser is quick and productive tool, and it is possible to do a lot of damage to a timber when you make a mistake with layout. A boring machine or drill drill gives you more time to think. Attentiveness = accuracy, as ever.
Chain sharpening
Mortise chains are expensive and Makita says they can't be sharpened, but but there are plenty of companies who will do it for you. Just google and you'll find quite a few.
Safety
A good operator is the best safety. Chain mortiser is a cutting power tool and accidents unfortunately happen.
Reselling
A chain mortiser is an expensive, but easy-to-sell tool. You can build few frames and then maybe resell the unit and lose a couple hundreds on it. Believe me, such a 'renting' is something you would gladly do for a couple hundred dollars. Or, if you don't want to invest (at least temporarily) then a a chisel and drill will be your companions on a trail of misery.
Conclusions
I vote for getting the chain mortiser. The traditional methods are good, I admire and respect, but sometimes you need to conserve your energy for tasks that don't have power assistance option. And you've certainly  seen lots of people looking for used ones so it won't be a problem reselling it.  The chain mortiser was the first tool I bought other than chisels when I started framing.
I don't like buying a second hand, but if you are not ready for such investment, carefully check chain condition, locks, etc carefully. A used tool may not look great, but main parts shouldn't be worn out. If you are buying the first mortiser, look for a brand new one with a warranty.