Irrespective of whether you are working in the backyard or at a workshop you will want to have the best drill press on hand. And whether for personal projects, woodwork projects, metal work projects or constructions, finding the best drill press is not so easy. There are portable and fixed drill presses, benchtop and free standing ones, magnetic (Mag) drill presses. They come in different shapes and sizes, differ in price and reliability, include various accessories, etc. Moreover, you'll use a good drill press for years, so it is good to know more to choose the one that will meet your personal requirements.
Spoiler – Best Drill Presses by Type
Table of Contents
How to Choose the Best Mini Drill Press (Drill Guide)
Milescraft Stand Drill Press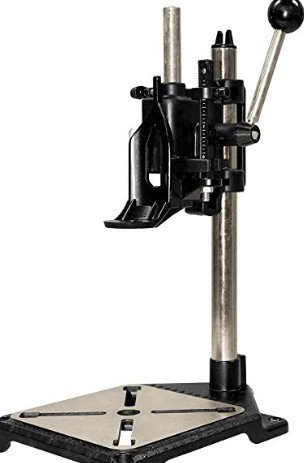 Our rating:

Details
---
Metal head fits most of Dremel tools. A metal rack is spring loaded and has a pinion gear. The press equipped with a scale and depth stop.
Weight – 1 pound, dimensions – 7.5 x 5.3 x 13.3 inches
Review
---
The tool consists of three main components: a base, neck, and head. Before the work, you need to attach the neck and mount the head. It is much better than freehand drilling right out of the box. However,  there is a bit wobbling in the press head that can cause a miss by a few millimeters. It also can cause breakage of the tiny drills (for example, PCB drill bits). In my case, a piece of plastic with a double-sided tape under depth gauge was the savior 🙂 The cord retainer is pretty loose and does not hold the cord really well. You need to wire-tie it to the top to fix the problem.
This is a light duty drill press, not for tough or precession tasks. If you are handy as a "hardware hacker" you can in one-two hours fix all problems and use the tool to drill PCB's, metal, stone and plastic, polish and grind it and do it very well.
Cons
---
It works out of the box, but need some fixes to perform precise operations
The drill press will not accommodate the new 400 Series of Dremel tools
The base plate is not polished, made of cast aluminum and has a rough look
Pros
---
The drill press is lightweight and portable
Fits Dremel and Black&Decker rotary tools
It is reasonably priced
After a simple modification, it is a nice and precise enough tool
You can remove the drilling head and mount it horizontally (it will move left to right).
Conclusions
---
This isn't a bad little drill press – lightweight tool, suited for the drilling small holes and model making.   It fits Dremel, B&D, and even Harbor freight rotary tools. Given the price it is a decent tool, it is built cheap but it works. The plastic control parts are weak, but if you are handy, you can rebuild them with stronger materials.
Dremel Wrench Drill Press 
Workstation
(Guide)
Details
---
The drill press helps to make perpendicular and angled holes (15-degree increments), holds tool horizontally for polishing, sanding,  and grinding.  Shaft stand is telescopic and allows to set  16-29″ height.
The workstation has crow's best at the top for drill bits, wrenches, and other accessories. There are inch and metric marks on the base, depth markings, and depth stop
Compatible with Dremel Rotary Tool models 100, 200, 275, 285, 300, 395, 398, 400, 800, 3000, 4000, 4200, 8100, 8200, 8220.
Weight – 4.85 pounds. The base is approximately 6.75-inches wide and approximately 8-inches long. The height up to the is approximately 14 1/2 inches. Comes with 1-year warranty.
The station is able to tilt the tool anywhere from 15° to 90°. Bolting the base helps you when you want to turn it into a sanding and polishing tool for more intricate work.
Review
---
It's a light duty miniature drill press, quite cheap but intended to use with low-power Dremel Tools. They are high-speed, and to make small accurate holes you don't need much pressure. If you used it carefully it can do acceptable work.
Cons
---
A part of the construction is plastic, so if you plan to drill big holes, it will result in a great deal of wobble and play. It is a tiny workstation, not a big tough drill press. Drilling with it looks more like grinding – very slight pressure. I think you should use up to 1/8″ drill bit, or it won't work accurately,  any press will flex if it's forced beyond its intended limits.
Pros
---
The drill press can be adjusted to work as a bench grinder and can be combined with a cross-slide mini vise. If you go slow, don't "hog it" and allow the bit to do the work, you can successfully drill holes, polish metal and stones.
Conclusions
---
It is great for hobbyist for all little odd jobs. All in all, it's still a great addition for anyone that owns a Dremel. It is great if you already have the tool and only occasionally need to use an impromptu drill/routing stand. Nice addition to the shop.
Wolfcraft Multi-Angle Drill Press (Guide)
Details
---
It is a guide for using in angle positions from horizontal to vertical positions with a 15° increment. Guide-bars have a drill-stop and springs for a quick return. Fits all 1/4″ and 3/8″ drills.
Weight – 9.6 ounces, dimensions – 2.9″ x 6.2″ x 14.4″. When the guide is fully extended upward, the distance from the bottom of the chuck to the bottom of the base is about 6 5/16″, so you cannot use one of those extra long drill bits in this guide. It the lowest position the chuck moves is about 1 1/8″ from the base. The diameter of the base is 5 1/2″, and hole diameter is about 2 7/8″. The width between the two poles going up to the chuck is approximately 3.5″.
The chuck is 3/8″.
Review
---
The tool is made in China. Looks like the same guide Sears sells under the Craftsman brand with the slight difference in color of plastic bits.  I doubt that it is able to successfully handle the power of a 1/2″ drill.  Overall it seems well designed and there are no obvious flaws, the tool is robust enough to last a while.
The guide works great in wood drilling tasks. The base becomes unstable when drilling angles in metal and plastic, you need clamp spots or a vise to prevent 'walking'. The tool would not replace a drill press, but It certainly improves the results, helps keeping the drill square to the surface.
Removing and assemble a chuck is not so easy. I use an old drill for the guide permanently.
Pros
---
It definitely improves the precision of drilling comparing to freehand
The guide is portable, it fits into an apartment and is generally usable almost anywhere
Overall construction is decent
Adjustable angles
Low price
Cons
---
There is no place to store the chuck key, would have been nice if they had included on the base or crossbar when not needed.
The chuck that holds the big is smaller than normal threading and the key provided isn't the greatest.
You attach your drill at the top like you would a bit.
On a negative side, the guide has somewhat excessive play in the chuck, and a tight fit for larger (corded) drills.
Conclusions
---
It's not really a replacement for a drill press, but certainly, the guide is a portable tool well worth the money. You can tilt the base to almost flat which makes it possible to store in a small space, assembles easily and does a good (but not so precise as drill press) job.
The best solution to the problem, there's nothing better in the market, I think.
Finding the Best Bench-top Drill Press
WEN 8, 10, 12-Inch Bench-top Drill Presses
Details
---
WEN Drill Press is a brand that is making a name for itself by offering a quality tool at a very affordable price. These models have enough power to get through most materials and can give users accurate and repeatable holes with an amount of precision that you cannot get when using a handheld drill.
WHEN measures the size of the presses (8, 10, 12) as a HALF(!) of distance between the chuck and the column, so the number explains the width of the metal or other material can be drilled. The 12″ drill press have a throat calculation of 6″, the tool can reach the middle of a 12-inch piece of material.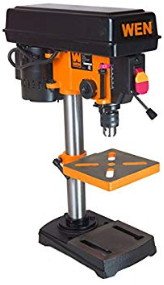 Our rating: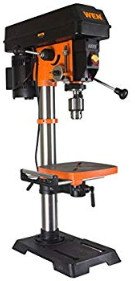 Our rating: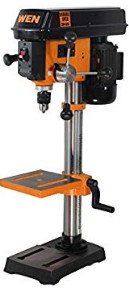 Our rating: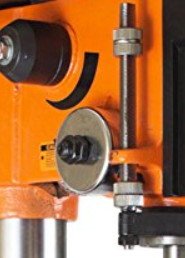 WEN 4212 has with infinitely variable speed (no belts and pulleys to change) in a range 530-3100 RPM with LED digital speed monitor. Speed control is mechanical and the power remains the same through the entire speed range!
WEN 4208 and 4210 drill presses are equipped with 5 speeds.
Chucks are keyed and capacity is 1/2″ for all models. Presses have key storage, the base of the tool made of cast iron with bolt holes to mount the press.
10″ and 12″ drill presses come with X-pattern laser pointer which shows the center where a bit will be.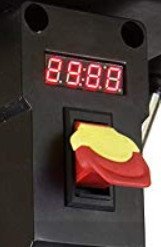 This an option that you can use in your workshop or take with you if you need it for your career as well, making it a quality item that is well worth every cent if you are looking for a tool that you can take with you.
The roller on the table moves and adjusts easily and it has a flat base. It is a drill press that is made with solid construction, which is perfect since durability is important in shop tools.
Table 1 – Spindle travel and motor amperage

| | | | |
| --- | --- | --- | --- |
| Model | 4208 | 4212 | 4214 |
| Spindle Travel Distance | 2″ | 2-1/2″ | 2-3/8″ |
| Induction Motor Amperage | 2.3 Amps | 3.2 Amps | 4.5 Amps |
| Table Size | 6-1/2 x 6-1/2″ | 7-5/8 x 7-5/8″ | 8 x 7-2/3″ |
The vertical stroke can be added by adjusting the height of the platform between strokes.
Review
---
BE CAREFUL with the description! (see the cons) But if you know it before buy, the tool will please you.  It is quite heavy and sturdily built. The press is easy to assemble and works smoothly and quite, with no wobbling or vibration.
Cons
---
The description "12-inch" drill press whereas the distance between the center of the chuck to the column is 6″ is pretty unusual and looks strange.
The description hides real HP of the motor, it is not very powerful:
2.3 Amps is about 1/4 HP
3.2 Amps is about 1/3 HP
4.5 Amps is about 2/3 HP
LCD display remains on after you shut the press down, I think it is a little annoying
Pros
---
The drill press is sturdy and reliable
Variable speed (model 4214) is VERY convenient and quick
Conclusi0ns
---
I think it is VERY hard to buy a better than WEN 4214 drill press for the money (be carefully with specs). Variable speed regulation is my more convenient than changing belts. The drill press would be ideal if it has an adequate 3/4 HP motor. Mine is almost 4 years old and still like new. Best buy for DIYer.
Shop Fox Bench-Top Drill Press, 3/4 HP, Oscillating
Details
---
The Shop Fox W1668 bench top drill press comes equipped with a 3/4 horsepower motor and 12 different speed settings that perform up to 1,725 rpm. It also doubles as a 12-speed oscillating sander which is great for contour sanding.
The W1668 runs off a 115-volt power supply and it is just like it's little brother (the H0625) in many respects, except that this unit has more speeds and more power, allowing it to take on more heavier jobs with ease.
The drill press can be used in sanding operations by setting up with just a few tool-free steps. Oscillation is a useful function designed to reduce heat and ensure smooth grinding.
Features
12-speed oscillating sander feature
250-3050 RPM spindle speeds
3/4-horsepower motor – great for heavier jobs

5/8-Inch drill chuck

13 1/4″ swing

 3 1/4″ spindle travel

Table swing: 360 degrees
Table tilt: 45 degrees left & right
Dust collection port
Spring chuck key
Weight – 63 pounds
Dimensions – 23 x 14 x 38 inches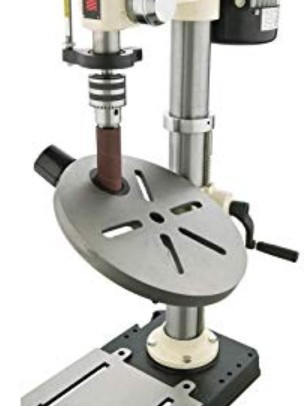 A great feature and a very thoughtful addition from Shop Fox is the dust collection port which makes sanding less dusty and less of the clean-up operation than a sanding operation. It also has a clearance hole for use when sanding, making it easier to sand larger objects.
The table of the W1668 is able to tilt both the left and right. With it, you can adjust both table tilt and height to achieve special sanding and drilling angles. You can also easily move the table out and use the base of the drill press for drilling or sanding.
Cons
---
It is not so easy to assemble as some similar drill presses, two people installation is suggested
There is no laser pointer
No work light.
It is quite high, about 6'6″. You need to use a chair to open up the black case top for speed adjusting
Unreliable packaging, the press often arrives with scratches and dents. It is heavy and needs to be crated. The styrofoam and cardboard box don't provide enough protection.
Pros
---
Speed range is good: 12 speeds cover (250-3050 RPM) just about everything
3/4 HP motor
The footprint is great for the size, the machine is heavy and solidly built
 Oscillating sander for contour sanding and other sanding tasks
 Sawdust collect facility allows for cleaner sanding
Conclusions
---
It is not a 'professional' tool. Due to insufficient packaging, drill press parts often arrive damaged.  If you like doing your own sheet metal reworking, perhaps this is the machine for you. In this case, you'll get great full sized bench-top drill press for advanced DIYers and small workshops.
Jet JWDP 12-Inch Press
Details
---
This great drill was made by JET, which opened back in 1958 on the hands of Leslie P. Sussman and started as a small dealer for air hoists and trolleys in their shop in Seattle, and it moved up the ranks and in 1980 it joined the woodworking area, and it produced a lot of popular tools which made JET the great name it is now.
Jet JWDP 12-Inch Drill Press is a piece of modern technology, powered by a 1/2 HP motor (not so powerful)  with a variable speed system for versatility, and of course, it's masterpiece addition, its crosshair laser system, accompanied by depth stops, which ensures accuracy and stability during repetitive drilling. Most probably, this has to be its most interesting feature.
Mechanical variable speed drive system for easy speed changes
RPM range: 530 to 3100
Compact design for easy repositioning
1/2 HP induction motor
10 x 16-1/8″ cast iron base
Weight – 68 lbs
Dimensions 29.7″ x 19.9″ x 12.2″
5-year warranty
Review
---
Combining the power of a large model with the compact design of a portable, space-saving tool, the Jet JWDP 12-inch drill press with is a great choice for use in your home shop or on-the-go. The spindle travel at over 3-1/8 inch for maximum depth cutting and an X-shaped laser ensures drilling accuracy.
If you crave the power of a big floor model but have little storage space, the JDP-12 is for you. This drill press features a compact benchtop design that won't clutter up your shop and can be easily transported to different locations.The 11.5 x 16.5-inch cast iron base also fits neatly on work benches with limited space, giving you more flexibility while on a job site. At the same time, the stable base design allows for easy re-positioning on the work bench.1/3 HP Motor and Variable Speed Drive System for VersatilityPowered by a heavy-duty 1/3 HP induction motor, the JDP-12 can tackle various drilling applications. It also boasts a mechanical variable speed drive system for fast and easy speed changes and an industrial 5/8-inch drill chuck for flexibility and versatility.
Cons
---
The table binds a bit when you rotate it to the side
LCD stays on even when it's not running.
Pros
---
The throat depth is reasonable, the quill travel is smooth
The motor is powerful enough for a bench-top press
There are no significant vibration to speak of
Work light helps to work
Lever speed control instead of moving a belt is just great
Conclusions
---
JWDP is similar to the WEN, but has a better motor. At the same time, it is much more expensive. The decision depends on your requirements to drill press performance.
Powermatic PM701 3/4 HP – The Best Bench Mortiser You Can Buy
Details
---
The Powermatic PM701 3/4 Horsepower Bench Mortiser, powered with its 3/4-horsepower motor, which runs at up to 1725 rpm, has a chuck width of up to a 1/2″. The head-stroke size allows up to 5 1/2″, whilst the chisel to fence distance is 4 3/8″, with an allowable chisel size up to 3/4″.
The bench mortiser features:
Powerful 3/4 horsepower motor,
The chuck opening is 1/2″,
An in-line depth stop, with 5/8" and 3/4″ bushing sizes,
An operating speed of up 1,725 rpm, with a 5 1/2″ head stroke size and a reversible handle giving left or right handed operation,
A mortiser, a 3/4″ chisel bushing, chuck key and a chuck extension adapter,
A large, stable base plate of 16 5/16″ x 13 3/4″ and a stable weight of 93 lbs
Review
---
This bench mortiser's for both left-handed and right-handed users. The workmanship of the Bench Mortiser appears excellent. The motor is very smooth and works without any effort at all. The guides which move the table and lift the head both operate smoothly and easily. The motor is a 3/4 horsepower, much smoother and more powerful than the opposition products which mostly feature 1/2 horsepower motors.  This machine doesn't bog down, even in hard and green wood, like its less powerful cousins.
The spacer which is fitted for the auger and chisel bits is handy, and so is the tool rest on to the back, for your extra chisels, it also has a chisel polishing hone attached too. This drill press requires a 10mm hex wrench, which isn't supplied by Powermatic, so you will need a set of metric wrenches, but this is hardly a fault is it. A depth stop allows you to level at pre-set distances, whilst the sturdily constructed handle is fully reversible, easily changed from right to left, and is great in case of a left-handed woodworker. The stock lock down includes a unique double lock, which eliminates slippage whilst removing a chisel from a job. The fence features a fast action lock for the cam, which makes positioning simple, and the chuck door is hinged and has a magnetic catch, which allows easy access to the chuck with a standard 4" key. The fence can be adjusted with the rack & pinion system.
One very small bug in the works was that the paint finish wasn't all that brilliant. This won't affect the massive performance of the machine at all, so maybe it's not a problem to worry about.
Cons
---
It does not have a spring, you are required to lift the device up after the plunge cut
The handle is designed  to rotate nearly 270 degrees, it isn't very convenient
The finish work is far from ideal
Pros
---
Great design, very stable and produces great results
Powerful motor
Very little assembly  out of the box
The fence and clamp design are perfect, all settings are done without tools
Conclusions
---
This amazing drill press is a good, strong product, one which will stand you in good mortising stead for many years to come. For what you get, the price is reasonable and this machine will last, unlike some of the less powerful on the market
RIKON 30-120 13-Inch Press
Details
---
The RIKON 30-120 13-Inch Drill Press is powerful enough for almost any surface and is particularly suited for woodwork. It can be used for straightforward drilling, tapping, reaming and lots more.
powerful ½ horsepower motor
16 different Spindle Speeds (ranging from 200 to 3,630 RPM)  with a  speed selection chart
Made of solid steel and cast iron, making it exceptionally durable
Handles made of cast iron, so they won't bend or loosen
Clutch Depth Stop for to accurately set drill depth
Simple, user-friendly design
Rack and pinion height adjuster
Two-year warranty
safety switch
13-inch swing
The table tilts 45 degrees right or left and rotates through 360 degrees.
Smooth, efficient operation
Height of 39 inches
Depth of 24 inches
Weight of 121 pounds.
Comes with: drill press head, arm, table, cast iron handle, table support, base, column assembly, two hardware bags, a chuck and an owner's manual.
Two-year warranty.
Slot design ensures easy mounting of jigs, vises, and fixtures.
Review
---
It is made by Rikon, Power Tools, a division of Richen Enterprise, Inc., which has its headquarters in Massachusetts. Their products are manufactured in Germany and China, and they strive to make great quality products at a reasonable price and with good customer service.
This drill press is a heavy-weight, heavy-duty tool that will last for years. It has a ½ horsepower motor, 16 different spindle speeds, tilting table and a clutch depth stop. It is made from steel and cast iron and its design is simple and user-friendly.
This drill press is for both DIY and professional users. It is solidly built and durable, so it is great for those who will need it for heavy-duty use. With its clutch depth stop feature it is also great for those who will be doing projects where repeated drilling to the same depth is needed.
Pros and Cons
---
It is solidly built and likely to last a long time – a definite pro if you're looking for something that can withstand lots of use and abuse. Its simplicity can be a pro or a con, depending on what you're looking for. The drill press doesn't have any lasers or digital features, so that will be a con if you're looking for a high-tech tool. The positive side is that it is straightforward to use, so even beginners can start using it straight away. Some have noted that a possible con is that the cast iron hand wheel is not long enough to give sufficient leverage, and that those with large hands may also scrape their knuckles on other controls as they turn it.
Conclusions
---
The main reason for buying this Drill Press is that it's solid and packed with user-friendly features. It is unlikely to break, and it won't take you hours to figure out how to use it. It is solidly built and easy to use. Likely to be a worthwhile investment if you're looking for a straightforward, heavy-duty tool.
Choosing the Best Freestanding or Floor Standing Drill press
Powermatic PM2800B Variable Speed Drill Press Review (18-Inch)
Details
---
The Powermatic PM2800B is a drill press designed to make finishing any metal- or woodworking project easier. While there are a many drill presses that could be considered comparable to this specific model, several innovative features of the Powermatic PM2800 have influenced its popularity. Let's have a quick look at some of the popular features.
The key features of the Powermatic PM2800B are:
Additional Voltage Accumulation
Work Area Illumination
Dual Laser System
Adjustable Table
Stable Work Surface
What's Included
Assembly Rack With One Column
Drill Press Base
Table Bracket
Table
Three Down-Feed Handles
Drift Key
Chuck
Arbor
Shift Knob
Locking Handle
All Required Hardware
Owner's Manual
Warranty Card
Each of the five features commonly referenced by owners of the drill press can affect a buyers ability to complete high quality wood projects.
Review
---
The drill press has a 1 horsepower motor and can support voltages of 115V to 230V with the motors protected by totally enclosed fan cooled (TEFC) chambers that keep the motors safe from overheating during usage. The machine generally accumulates 115V of power when in operation; however, the machine could be converted to receive 230V for a stronger performance when necessary. The additional power is extremely useful when completing larger projects that require the use of large pieces of wood and faster speeds.
One of the downsides to using a drill press in a work room is that the lack of lighting in most work areas is insufficient for completing fine woodwork. The strategically placed Light Emitting Diodes (LED) are powerful enough to illuminate an entire working area without causing a glare that makes it difficult to complete work without straining the eyes. Though the light is placed beneath the head of the drill press to protect your eyes from the strain, the placement does not affect the operator's ability to use the light to better view the work surface.
In addition to the LED lights, the Powermatic PM2800B utilizes laser technology; one of the latest innovations in professional quality drill presses. The PM2800B has a secondary on and off switch that allows users to active the dual laser system at any point in their project. The dual lasers create an "X" mark on the piece of wood being worked, allowing users to accurately measure the area they are drilling without difficulty. Using the dual laser system helps to prevent common calculation errors that can lead to flawed measurements and improperly completed projects.
While many drill presses have set table widths, the dimensions of the Powermatic are completely adjustable allowing users to control the size of their work area. The table of the PM2800B starts at a basic 14 by 16 inches, the typical work space area needed for average woodworking projects. However, if a user needs additional space the work area can be expanded by an additional 30 inches. Along with being expandable, the adjustable table can be tilted to angles of 90 degrees to the left or the right before being locked into place. The ability to tilt the table makes it easier to place and work pieces of wood with irregular shapes. Also, the PM2800 has a T-slot grove that allows users to gauge or check their measurements while they are completing their project.
Most common complaints of drill press owners is the lack of stability in their work surfaces. Attempting to complete a project on a table that may move at any moment increases your chances of ruining expensive wood or damaging your drill press. The Powermatic PM2800 has a long table with a steel column that is 1/8 inch in diameter along with the rigidly and stability needed for completing projects. Each drill press is able to support hundreds of pounds worth of weight without fear of vibration.
Cons
---
Time Consuming Assembly
Confusing Assembly Instructions
Malfunctioning Equipment When Assembled Improperly
Pros
---
Extensive Warranty
All Hardware Included
Sturdy Design
Laser System
Table Lighting
Sturdy Expandable Table
Conclusions
---
The ability to perform high quality drilling at home is one way to save money on furniture and household repairs. However, without the proper drill press a relaxing holiday can quickly become an expensive and frustrating pastime. The Powermatic PM2800B is a quality drill press that provides consistent results with the backing of a long warranty.
Jet JDP-20MF 20-Inch Floor Drill Press
Details
---
Jet JDP-20MF 20-inch floor drill press is a large unit and quite heavy, as you'd expect for a heavy-duty floor press. The JDP-20MF is relatively easy to set up, and the instruction manual is easy to follow. However, you will want a strong friend to help with putting the head on it.
The Jet JDP-20MF comes packed with many of the features we've become accustomed to from Jet, including:
A powerful 1.5-horsepower motor; ideal for many heavy-duty tasks.
Built in lamp to illuminate the drill bit and working area.
12 motor speeds, ranging from 150 rpm up to 4,200 rpm.
Operates on both a 115 volt and 230 volt power supply.
Tilting worktable – up to 45 degrees.
As you can see from just the few features we've outlined above, Jet has worked hard to create a drill press suited for the professional but also an excellent choice for the domestic and general woodworkers market as well. The powerful motor has 1.5-horsepower and the 12 speed settings allow you to drill through many and most materials, and also allows for many other practical jobs such as sanding, routing, etc. The built in lamp is a very nice addition too, and is something we wish more manufacturers include with their models.
The tilting worktable can tilt up to 45 degrees. However, it is round and isn't quite as large as some other models in this price range. This is actually advantageous for some jobs, but can be a disadvantage when it comes to the quick clamping of objects on the worktable.
Although the production of these drill presses is in China, Jet keeps a good eye on quality control and does not ship products that do not meet their strict specifications and quality levels.
Cons
---
Round worktable that is not as large as some other models
You have to manually re position the drive belts for different speeds
Very heavy – you will probably need help setting up the unit
Shipping Weight: 292.6 pounds
Size: 20-inch floor drill press with a powerful 1.5 hp motor
Worktable: Smooth-traveling table raises and lowers at the turn of a crank to exactly where you need it
Motor Speeds: 12 spindle speeds ranging from 150-4200 rpm; 3/4-inch chuck
Extra features: Built-in work light; drill chuck and key included
Drill Weight: Weighs 288 pounds
2-year manufacturer warranty
Pros
---
Has a large heavy base for stability
Built in lamp for drill bit and worktable illumination
12 motor speeds for drilling a wide variety of materials and ideal for other jobs too
Powerful 1.5-horsepower motor for repeated heavy-duty use
Two-year manufacturers warranty
Conclusions
---
If you are a professional, or at least somebody who uses these sorts of tools nearly every day – or if you need a heavy, reliable tool that is going to be durable and be able to handle heavy-duty tasks, the Jet JDP-20MF is probably the right tool for you.
The price is actually a very good value given the quality of tool you get, and the additional included features it has makes the use of this unit quite enjoyable. In fact, once you've gotten used to a machine like this, you won't likely want to go back to anything less.
JET JDP-17MF Press Review – From Assembly To Usage With Ease
Details
---
Corded electric for power source.
Dimensions 54.50 X 23.50 X 12.80 inches.
Equipped with a ¾ Horse power motor.
16 different speeds varying from 200 RPM to 3,630 RPM.
Comes with a one year warranty (limited).
Tilt able table (up to 45 degree) right and left.
13 ¾   inch work table with a 16 ½ inch drill press.
Outer body of steel and iron.
Weighs 178 pounds.
209 in shipping weight.
Hinged pulley and metal belt.
Press ability to spin bits (up to 5/8 inch)
Locking feature (Dual nut)
Half inch diameter depth stop.
Built in lighting.
Review
---
It is simply for those woodworking lovers, who want a machine that has it all without paying a lot. Also for those who want a drill press that they can abuse and push without breaking down, this heavy-duty drill is the choice.
Pros and cons
---
It horsepower (3/4) is more than enough to satisfy your drilling needs, its outer body made of hard iron and heavy steel makes JET JDP-17MF a heavy duty drill that withstand any user abuse. The tilt able worktable surface which tilts 45 degree to the left or the right allows comfort in positioning according to the application needed. Its' built in lighting bulb space is amazing, as you don't have to struggle in the dark anymore.
Its variable voltage allows convenience to users from various places as it supports 115 and 230 volt outlets, which is a huge advantage.
And lastly its' positive depth stops at the left side, which can be easily adjusted and locked in place plus its hinged pulley and metal belt which allows you easy access to the motor mount adjustment set for easy spindle changes.
Best Magnetic Drill Presses in the Market
Milwaukee 4270-21 9 Amp Electromagnetic Drill Press
Milwaukee 4270-21 9 Amp Electromagnetic Drill Press is an electromagnetic drill that will satisfy all your metal drilling needs, which is best for remote drilling, accompanied by an easy to carry handle which is in the best position to keep up the balance of the machine. On top of this, by weighing only 26.5 pounds, this tool makes it the best portable remote metal drill press there is.
Equipped with a 1.1 horse power induction motor and 9.0 amp, this makes the press a very powerful drill, powerful enough to drill holes with 1 ½ inch in diameter in thick steal with 2 inch thickness or ½ inch diameter holes 4 ¼ inches for depth by using twist drill bits. And it is able to operate by using the usual ¾ inch Weldon cutters or you can use the 3-jaw chuck along with the twist drill bits for deeper holes.
Main features list
An easy to carry handle.
Powered by a 1.1 horsepower induction motor.
0 amp motor.
Package comes with nylon strap, lubricant bottle, 2 hex wrenches and a carrying case.
Simple control panel at the back.
Weighs 26.5 pounds.
7 pounds in shipping weight.
Stored cutter wrenches.
2 Magnets (2,300 lbs of dead lift for every 1 inch of steel)
A compact smart design.
Easy to turn off feature.
Who is it for?
People who are looking to make their own house repairs that require metal drilling, especially the jobs that need a weird angle drilling , alongside not having enough space for the big drills, this drill press with its quality and compact design is the best steel drill press for the job.
Pros and cons
It compact design makes it very suitable to have in households or a tight spaced basement alongside it's easy to carry handle and light weight; it is perfectly made for home owners such as myself.
You can choose which cutter to use for the depth you desire, using the normal standard cutter which is enough to make 2 inch deep holes with 1 ½ inch diameter, or use the twist drill bits for further penetration as it can drill up to 4 ¼ inch deep in thick steel but with ½ inch in diameter.
And lastly, it's fantastic safety feature, as it comes with a very easy to turn off feature, which can become very handy if something happens or if someone gets stuck.
Why you should buy it?
Its ability to do jobs that requires odd angles, alongside its powerful performance, as it can drill holes up to 4 ¼ inches deep, with easy controls and clear assembly instructions. And of course, light weight and compact design makes it the best fit for your household.
Verdict
No choice but to buy this great Drill Press Kit, as it has the best price with the best qualities and features you may look for in a metal drill; it is really the best metal drill your money can buy.
Milwaukee 4206-1 12.5 Amp Electromagnetic Press Review – Power Plus Portability
The Milwaukee 4206-1 12.5 Amp Electromagnetic Drill Press is all you need for drilling into ferrous materials thicker than half an inch. When you cannot take the work to a machine, a portable electromagnetic drill press like this one is a great solution. It is good for drilling and tapping holes in machine bases and bolster plates.
It is made by Milwaukee, a large global corporation which manufactures electric power tools and accessories. Milwaukee was founded in 1924 and its vision is to provide the best products possible to professional users worldwide. The corporation's products are known for their durability, quality and reliability.
A 12.5 amp motor gives you ample power
A Drilling Capacity of ¾ inches
A drill point pressure of about 1,630-1,670 pounds
350 revolutions per minute at no load
Solid state electronic switching
A Line Lock-Out feature, which stops tool from operating if electricity is suddenly restored after being interrupted.
Feedback speed control
Electromagnetic variable speed adjustable base with 9 inch drill travel (the fact that the position on the base is adjustable makes lining up the bit easier and quicker)
120 volts
Weight of 70 pounds
Chuck Size of ¾ inches
The base of the drill is a demagnetiser, which allows for easy removal of chips afterwards
Strong electromagnet
Simple, convenient controls
Who is it for?
This drill press is for the professional user who needs to drill holes in ferrous metals quickly and efficiently. It is especially for those who regularly work on non-portable equipment. This drill press is known for its rugged durability and power. Made from great and unique raw materials, it will last a long time.  Since it has some advanced features, it may be confusing for the hobbyist who is just starting out; beginners may be better off starting with something more basic.
Pros and Cons
What stands out about this Drill Press is its powerful 12.5 Amp motor, which enables it to drill through just about any ferrous metal surface, and its portability. It combines features of Milwaukee's 4203 and 4262-1 drill presses. It has the 4203?s adjustable position and variable speed base, and the 4262-1?s ¾ inch motor. It has a drilling capacity of ¾ inches.
This drill press's high power motor is a pro. It will drill easily through almost any ferrous metal. Its speed and ¾ inch drilling capacity are other pros.
A possible con is that, depending on your budget, it might be too expensive for personal use. It comes at a reasonable price for what it does, though.
Why you should buy it?
It is powerful, and you are unlikely to be faced with a job it can't do. It is also relatively easy to use and comes at a reasonable price – all good reasons for buying it.
Verdict
This amazing drill press has power plus portability. If you are a professional who regularly drills holes into ferrous metals, this will be a worthwhile investment.
Milwaukee 4270-20 9 Amp Compact Electromagnetic Press Review – Light Yet Powerful
The Milwaukee 4270-20 9 Amp Compact Electromagnetic Drill Press is a great tool for drilling hundreds of holes through thick metal like machine bases and bolster plates.
It is exceptionally light and therefore easy to transport. This makes it particularly great for remote jobs.
It is made by Milwaukee, a large global corporation which manufactures electric power tools and accessories. Milwaukee was founded in 1924 and it aims to provide the best products possible to professional users worldwide. The corporation's products are known for their durability, quality and reliability.
It has a powerful 9 amp motor with up to 1.1 horsepower. At 26.7 pounds, it is light for its power. It has a feed handle that can be placed in two different positions without extra tools, plus a simple 2-button control panel – making it easy to use. It can drill large-diameter holes through thick steel, and it incorporates a two-coil electromagnet.
Main Feature list
It has lots of great features, including:
A powerful 9.0 amp motor with a maximum horsepower of 1.1
Weight of only 26.5 lbs.
Comfortable handle for carrying
Strong double-coil magnet
Feed handle can be placed in two positions (no tools needed)
Straightforward two-button control panel
Control panel is not obstructed by the feed handle like in some other drill presses
Capacity to cut holes of up to 2 inches in diameter through 2-inch steel when you're using annular cutters
Uses annular cutters from ½ inch to 2 inches in 1-inch and 2-inch-deep cuts
Speed of up to 450
Voltage of 120V (alternating current – AC)
Height of 15.333 inches.
Extras: Lubricant Spray Bottle, Safety Strap and Hex Wrenches (and a carrying case if you're buying the AB model)
Who is it for?
It is for the professional user who needs to drill lots of holes in thick metals quickly and efficiently. It is especially for those who will regularly need to transport it to non-portable equipment. Since it comes with a safety strap, it will also be a safe option for those who work where power is likely to be interrupted.
Pros and Cons
This drill press is fast and can drill hundreds of holes in a short period of time – a definite pro when you are rushed. It is also easy to use and does a neat, clean job with little to no burring. It has a safety strap, which is a great advantage when your power is suddenly cut off. It also comes at a reasonable price. Lastly, as mentioned above, it is very light for a machine of its power – great for when you need to carry it around a lot.
A possible obstacle is that its 9-amp motor does have its limitations. It should be more than strong enough for most jobs, however.
Why you should buy it?
This drill press will definitely make your life easier if you need to drill through metals regularly. It is exceptionally light, easy to use and powerful. Considering that it also comes at a reasonable price, it is likely to be a great investment.
Verdict
The drill press is light yet powerful, and has lots of great features.
Before Buying Drill Press
One thing to remember though is that if you hasten and purchase the cheapest one that you can find then you might as well be prepared for a quick disappointment. You should always make sure that the tool is capable of doing the work that needs to be done.
Before purchasing a drill press stop and think what it will be used for. These come in different sizes from small to enormous. This is why it is always best to think about what needs to be done with the press before making the purchase. If you are in a workshop and always have big jobs to do then it only makes sense that a small press will not be of any use for you. Remember when the drill press is not in use then it will need enough space for storage.
Now you are ready to figure out how much money you can spare for purchasing this tool. A drill press comes in many different ranges as far as price is concerned. If you are on a tight budget then it would not make any sense to try and spend thousands of dollars on your new press. There is no reason to think that you have to spend a mint when there are good versions that will cost half the amount of money.
No matter which of the top drill press you might be looking at, just remember they are actually set up for performing different kinds of tasks. A point to remember is what exactly the press is going to be used for. Some presses are meant for handling heavier material in large numbers. The thicker the metal that the press will be going through the more money you will need to spend. There are cheaper presses available in the market that can handle wood if that is the material which you work with the most.
If you are not sure which brand to go with then take some time and indulge in research. Read the reviews, testimonials, and feedback and see what other consumers are saying about the brand and the product. This is the best way to make sure the press will be everything that you were expecting. It is also a good way to compare the brands and seeing what each manufacturer has to offer through his product.
Accessories are also very important. Some will actually come with a variety of drill bits, different sizes of holes, and many other goodies. It can be expensive if you have to purchase everything separately so make sure the press comes with at least some accessories. Also, make sure of what kind of warranty is in place in case something goes wrong with the machine.
Since this is going to be one of your more major investments do not acquire one in a hurry. It is best to take your time and decide on the perfect press for your needs. The easiest place to start looking around is online so you can read everything about the product without venturing out of the comfort of your home. This eliminates any associate trying to talk you into a bigger machine than what is actually needed.
So remember to compare the various brands and see what accessories can be acquired as a part and parcel of the package. Make sure you figure a price that will fit into your budget easily. Always think about what type of job your press will be used for the most. Never forget to check about the warranty that is in place and what exactly it entails before making the purchase.
Specs
The press allows working with high precision, which is useful for making perfect holes no matter what the material. There are different kinds of presses available. If you choose the best drill press, you have the essential tool to complete any DIY job no regardless of the angle you are working from. Versatility is a prominent feature of a drill press because it has many attachments. These can help you turn the drill press into a mixer or even a sander if you so require.
Types
Portable drill presses, often use rechargeable batteries. This feature is great for individuals who need to make small and precise holes. They have a clutch and are easily adjusted for their right angle drills.
A small drill press is a mini version of the tool. Usually, they are low-power and have an adjustable speed to meet your need. The small drill press uses the table as their base, it cannot have an adjusted work surface.
Benchtop drill presses are mounted on top of a stand or workbench. They are made for drilling metal, wood, plastic, etc.
Freestanding floor drill press comes with highly powerful motors. It does not only offer more power than the bench top drill press but also allows you to use various attachments according to your requirements. For better accessibility and mobility, some of the freestanding floor presses have wheels.
Considerations before buying
Some of the considerations that will help you to choose from types of drill presses include the usual types and sizes of materials you work with.
Space. It doesn't matter how much money you are willing to shell out to buy a drill press. The first important factor you should consider is how much space you are willing to reserve for your drill press. Based on your space availability you can decide between a bench-top drill press or a floor drill press. Bench drill press takes less space compared to floor models. These can be mounted directly on the workbench. The steel column of the drill press has a different height corresponding to floor or bench press. Floor drill press model is more durable and features more power compared to bench press models. Floor models are more expensive. The downside is the large space required.
The angles you usually drill at is another important factor that counts into the drill you buy.
The space available in your shop or home for placing the drill is another important point. In case you work often with heavy-duty metals, you should choose the freestanding floor drill, which comes with greater power and offers a better flexibility of using attachments and enhancing the power of the drill.
Choose a drill with higher horsepower because it can easily bore into tough materials. Consider your needs before buying a drill.
Match capacity the drill to your needs so that you get the ideal benefits and best value for your money.
Acquiring a small model is the smartest move to make when purchasing one for DIY projects because with it you can work on different items, including immovable items like benches. When you have small projects like fixing your room or your garage or even your grill a portable one will not disappoint you because you will be mounting it on the items you need to drill without much effort.
If you agree that a small one is your best shot a satisfactory drill press then these guidelines will help you get it. Even if you decide to buy a fixed one they will still apply perfectly.
How much does it weigh? If you are going to buy a little machine then you need one that you can carry around comfortably without feeling strained. You need to look for a press that weighs only a few pounds but still performs well.
How powerful is the motor? You are buying a machine and the efficiency equals its power. You need to buy a drill press with a motor power that is at least 4 amp and above to make your drilling easier, especially for metal work the motor has to be superior for excellent outcomes
What is the speed range of the motor? Of course, the different drilling jobs require different speeds to get the best outcomes. Wood and metal are very different materials and if you are going to make holes on them one will require higher speeds than the other. You need to purchase a drill that puts all these factors into consideration. 700-4000 rpm will do just fine.
Is the drilling depth adjustable? While on your woodwork or metal work project you need to bore holes of different depths on your wood or metal pieces for different bolts. You need a drill press that can be adjusted to produce the different lengths.
Any extra features? A good machine should be able to perform some additional jobs besides the primary one. A press with a laser beam should be an added advantage because of the laser beam drills even tinier holes than the standard sized ones. Other things to look out are safety measures and usability. It should be safe to handle, especially those with laser beams, and easy to use.
Power specifications
Power and speed are factors that count a lot in their operation and effectiveness.
Power offered by drill press determines the type of work you can accomplish with it. An increased horsepower is made for drilling greater holes by means of tougher components. Some routine presses can be obtained with motors which can be about one-fourth to be able to about a single HP. There are many models available with different power capacity. Generally, floor models offer more power compared to benchtop models.
Following are the important points to remember before deciding the required power of your drill press:
What is the type of job you usually perform? Is it continuous, heavy or occasional, light job?
What type of material do you use?
Do you regularly drill at angles or just perform simple drilling?
What is the space you can afford for your drill press?
The floor drill press models feature motor of higher horsepower compared to benchtop models. Usually, floor models vary in power from 0.5 HP to 0.75 HP. The bench press model has power between 0.25 HP to 0.33 HP.
Following are the important points to remember before deciding the required power of your drill press:
The floor drill press models feature motor of higher horsepower compared to benchtop models. Usually, floor models vary in power from 0.5 HP to 0.75 HP. The bench press model has power between 0.25 HP to 0.33 HP.
The floor-standing drill press has a better, more powerful motor and hence, greater capacity. These models mostly vary between ½ and ¾ hp.
Contrary to this, the bench-top models are usually 1/3 – ¼ hp. For those people who use the drill press for drilling metal as well as wood, it is best to get a drill press that has a range of speeds and offers versatility. This is important because you need low-speed to drill metal while you need from medium to high-speed for drilling wood.
Special Needs
There are special types of drill press available nowadays. These offer unique features. For example, consider a radial drill press. It allows you to tilt the head of the drill press to allow for angled drilling while keeping your table and work-piece flat. It provides longer swing than standard drilling press.
Consider this:
Do you need a lot of angled drilling?
Do you handle very large items frequently?
Do you have large power needs?
Are you ready to shell out extra bucks to get these features?
Magnetic drill press offers the coveted combination of portability and power. A radial drill press is ideal for special operations. These models offer great features but are very expensive compared to standard models.
Speed
With variations of speeds, you are able to drill various material types with varying requirements of thickness and depth. In bench-top models, you have fewer options of setting the speed. Take into account the projects and requirements you usually need to fulfill and then choose from the drill presses available in the market.
Proper speed setting is essential for performing drilling jobs with a drill press. Different types of materials need different speed settings of the drill press in order to be drilled. For example, if you are working on wood you would need medium or high speed whereas metal requires lower speed.
If you are frequently using different types of materials, then consider buying a drill press with more speed settings
Bench press models offer moderate speed settings than those offered by floor models
Thus, floor standing models are able to drill through thicker materials due to their higher speed. They also provide longer strokes. The speed of the spindle is available in wide range, from less than 200 rpm to more than 3,500 rpm
If you are using a drill press for various materials and application, invest in drill bits accordingly. For every application, there is a different kind of drill bit, which comes in really handy and helps you complete your project perfectly.
Price and Purchase
The drill press is a very valuable tool and is worth every penny spent on it. But you need to consider what you can afford. Great features come with an increased cost. However, consider this as a one-time investment. Determine the type of drill press you need by considering the factors mentioned earlier. The price varies with manufacturers. Additional accessories can also add more functionality to your drill press. Try to achieve a balance between features offered and cost of accessories.
With your check-list at hand, you now need to go into a store and make your purchase but wait, there are different brands with different costs. How durable your drill press is going to be will depend on who manufactures it.
The kind of manual you get for your machine will also depend on the manufacturer. You definitely need a durable machine with easy to follow instructions so you better have the best brands in mind. Pricing is usually on top of the list and while keeping within your budget is important you shouldn't be afraid to let go of a few extra bucks to get the best package available. There are also coupons and discounts available if you have the time to check around all the stores.
Summary
Article Name
Drill Presses review: mini, compact, bench-top, freestanding, and magnetic
Description
Irrespective of whether you are working in the backyard or at a workshop you will want to have the best drill press on hand. And whether for personal projects, woodwork projects, metal work projects or constructions, finding the best drill press is not so easy. There are portable and fixed drill presses, benchtop and free standing ones, magnetic (Mag) drill presses. They come in different shapes and sizes, differ in price and reliability, include various accessories, etc. Moreover, you'll use a good drill press for years, so it is good to know more to choose the one that will meet your personal requirements. Read our review of the best 15 drill presses and we'll help you to find the best tool in each class - mini, portable, bench-top, free standing and magnetic
Author
Publisher Name
Publisher Logo