5029class="post-5029 post type-post status-publish format-standard has-post-thumbnail hentry category-power-tools"
Best Table Saw for Beginners: Tips for Beginner Woodworker [2021]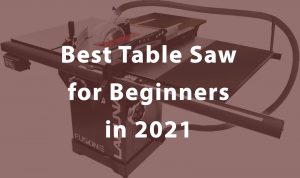 My grandfather was a carpenter and taught me all I know about woodworking. When I got a room for a workshop, the table saw was one of my first purchases. Choosing tools is a common challenge for beginner woodworker and in this post I will share with you my experience in choosing the best table saw for beginners.
Table Saw Tips for Beginners
There are two main approaches to choosing a saw. The first and most common advice is to buy a fairly expensive tool of well-known brands. For about $800 you can get a saw with a large table, 2 HP motor and extensions with a reasonable fence. For about $1100 you'll find a unit with a great fence, 3 HP motor, a large cast iron table and this setup will last for decades.
The second approach is good for DIYers who use a saw from time to time. It requires more attention, but saves a lot of money for other tools. You carefully choose cheaper device that meets only your basic needs. Of course, a lower-priced "home-use" level saws are not top notch ones. Nevertheless, some $150-300 table units easily last 10 years, even with frequent use and moderate load. Yes, they are not pretty, but work well enough to make acceptable straight cuts. Cheap saws often do not have enough power to handle tough work, but these tasks are not what you should consider "home use" either.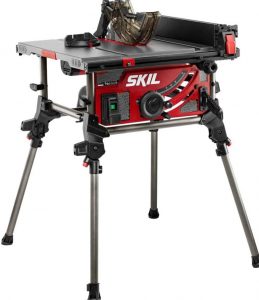 Personally I tend to advice buying expensive table saw. I think, you can make most any "DIY projects" without this tool. A table saw will likely be among your most expensive tools, so why not get into this hobby (if it's not full time job) using the tools you have? As you gain skills through doing a lot of projects, buy high quality power tools you really need. Buy the best unit you can afford, one tool at a time.
Best Table Saw for Beginners (DIY and hobby use)
My advice here is choose middle-priced tool, not the cheapest one. Don't buy junk tool. The Delta is a good example of a relatively cheap table saw of decent quality. You can afford it, and it's compact enough to move around with ease. And take into account that no matter what tool you get, you are still have to learn what good setup is how to do a proper setup to get the most out of the saw. If you want to make precise cuts, the proper setup will be the critical factor.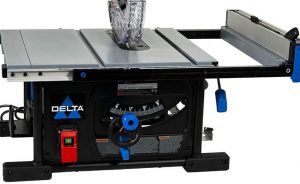 The good news about Delta is that if you get a decent full-size saw, you can sell it for a good price if you outgrow the tool. And by that time you will clearly understand why and what you need in the upgrade.
Portable saws are typically low powered and mobile devices. They are in the $150-600 range and are harder to upgrade and modify.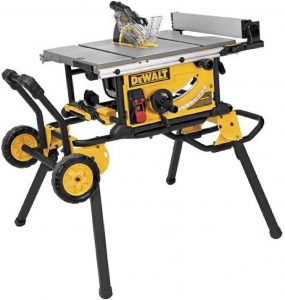 Table Saw for Beginner Woodworker (Professional Use)
When it comes to starting a woodworker career, choose a tool bigger than you need now, if you can. Both in power and features. Like almost all of my friends I will say "Pound for pound, Grizzly make the best tools at the best price".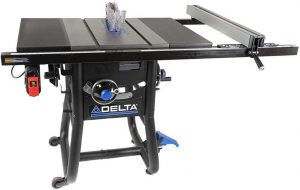 Generally, the choice of the table saw depends on your budget, your needs and the space you have in your shop. Cabinet saws are the best, but most expensive, up to $2000-$3000. Contractor and compact saws are next. Contractors have larger beds then compact and they are made of cast iron. You can find contractor saws with  extra accessories and upgraded fences.
All these models have their pros and cons, but the contractor's saw is in the middle as far as weight, accuracy, size, cut capacity, cost, etc. What's more, if you work in a small shop, you can buy a fairly cheap mobile base to get the saw out of the way after the job is done.
Conclusions
If you plan to work as a professional woodworker, buying a table saw is a lifetime investment, therefore, make a right choice and you'll not regret spending the extra money.
If you're just starting out, look for a decent used table unit. Spend some time and you'll definitely find a guy who is moving out of town and buy a tool that work well. If you buy a new tool later, this will be a great second saw for light duty work, so you don't have to change the blades all the time.
Posted on
Categories
Power tools