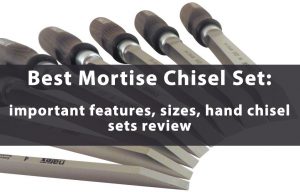 Mortise chisel should have enough thickness to withstand malleting into the wood  and levering out to remove chips. Blade angle of the tool is designed to resist abuse and prevent chipping the blades. They are heavier, come with massive beech or oak handles to take pounding. However, we will help you to find your best mortise chisel set that will be easy to handle and a joy to use. Read our article to make a good decision!
What features should the the best mortise chisel set have
For paring chisels, wear resistance is most important quality, but for mortise chisels, I believe, this feature is somewhat secondary. My opinion is that ability to withstand the pounding trumps its ability to hold a the cutting edge sharp for a long time.
The oval handle helps to keep the blade square to the mortise and the slight relief of the non-parallel blade sides makes it easier to use.
Some carpenters prefer Japanese steel, so they'll vote for a Japanese mortise chisel. They are easy to sharpen and hold an edge for a long time. 6 mm  Japanese mortise chisel instead of 1/4″ is not a problem, if you're making a regular mortise and tenon joint, you just set your marking gauge based on your chisel, so whether it's 1/4″ or 6mm doesn't matter.
Sash mortise chisels are lighter version of the tool and work good for chopping the relatively shallow mortises. Most common and versatile are heavy duty sash mortise chisels. Having the square chisel section, they are a little less comfortable to use but they are also less expensive and more reliable – good choice for the occasional mortise (see also chain mortiser machine for large volumes of wood and square hollow chisel mortise drill bit for using with a drill press)
Crown Tools mortise chisels
Crown Tools Mortise Chisels are made by reputable European tooling company. The steel is high carbon and not top notch, but they are very heavy duty. The chisels are well built, the sockets and handles are very sturdy. A leather washer is fitted between the blade and handle to absorb shock. The tips dull  with heavy use, but for mortise chisels occasional sharpening is not a problem.


The Crown tools chisels are a good way to start. They are not the best, but you can afford them as a good set of chisels. If sharpened properly and guided by the right hands they are nice tools.
Narex mortise chisel set 2,900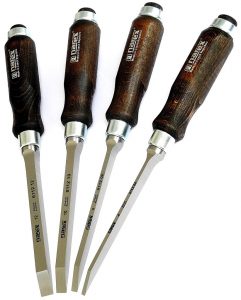 I've bought the Narex mortise chisel set, and it works fine for me. Keeping it sharp is not a problem at all. I use chisels frequently and rarely have to take the tools back to the stones. While I prefer traditional "pigsticker" handle, Narex handles are easy enough to use. The set was about $75 and it was more than I had budgeted myself. Nevertheless, they are great tools, and they should last me a long time. And I keep HF chisels for riskier work.
The blades are the same thickness and the smaller is taller than wider. They are sharp out of the box but you may made them crazy sharp. I don't see much sense in this, but many of my friends spend 10 mins per chisel to polish the bevel using fine diamond stone and strop. I think it's better to quickly knock the non-cutting edges down with stone or sandpaper since all edges are moderately sharp including corners of the shaft.
Narex chisels cut mortises with clean sides and they won't bend when you lever out the waste. They stay sharp for a long time and leave a shiny surface on the wood end grain of each cut.  Narex cut through hardwood like a hot knife through butter. They are moderately priced, but have similar quality to the most expensive brands and with some care will last just as long.
I would recommend Narex mortise chisel set to anyone as reasonably priced high quality tools.
Tips and tricks
Sharpening
Sooner or later the chisel becomes dull or bump into a nail and you'll sharpen it.  Make sure that you are not overheating the tip. Moderate heat from grinding won't be a problem. If the tip is too hard and chips easily, you could heat it and let it cool slow. That would soften the steel up a bit.
What size mortise chisel do I need
In general you're going to use a tool about 1/3 the width of the mortise stock. In this way for typical 3/4″ mortise you need a 1/4″ (or 6-8mm) chisel. 7/8″-1″ mortises are made with a 5/16″ chisel and thicker than 1″ – a 3/8″ chisel. If you are going to buy two chisels, I recommend to get 1/4″ and 3/8″ tools.
Three chisels set should be 1/4″, 5/16″ and 3/8″. Some carpenters who work with a heavy tables and workbench type pieces, substitute the 1/2″ for the 5/16″.
Conclusions
I am very impressed with Narex chisels. Good steel, sharp from the box, relatively flat backs. I sharpened all 10 in about an hour. The only con is they are metric, but wood sizes don't really follow rigid standards, nobody really care if it is 10mm instead of 3/8?? See also Mortising drill bit: square hole hollow chisel mortising bit review