4859class="post-4859 post type-post status-publish format-standard has-post-thumbnail hentry category-drill-bits"
Best oscillating tool blades in 2021: saw, cutting, tile and drywall blades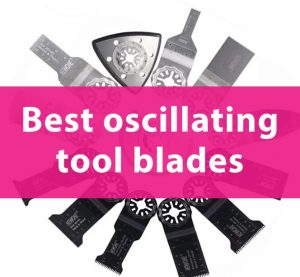 I have been using a multimaster tool in my work for around four years and have worn out a lot of blades: Fein, Makita, plenty of cheap Home depot blades, even Imperial blades. Most of them have shown efficiency significantly less than expected, but I've created my own set of best oscillating tool blades that includes saw, cutting, tile, drywall blades by several brands. And the set is very reliable and effective.
Types of oscillating tool blades
Sanding blades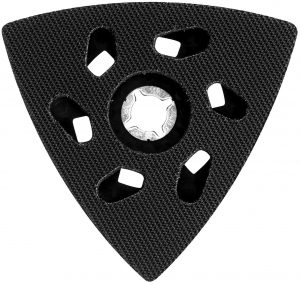 In addition to sawing, the multitool can be used for quick sanding purposes. With a wireless tool is especially convenient, you don't need to dig up the extension cord. Just set the sanding attachment and get it done. Mos of sanding attachments, are available in triangle and circular shapes. Both are good, but I prefer the triangle shapes.
Bosch sander pads are perfectly compatible with Makita, Milwaukee and any Starlock oscillating tool. Some people complain that it melts after overheating, but myne works well. Don't pushed too hard when sanding with a power tool, it isn't a manual sanding block. Let the multitool do the work for you.
Best saw oscillating tool blades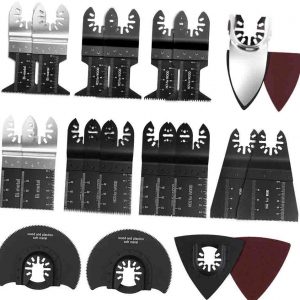 These blades are most common. A straight blades are good for plunge cuts, for linear long cuts better to use a round saw blade. You can also use a wood blades to cut multiple materials, such as drywall, paneling, plywood, etc. But you'll get the most of your multitool if you use specially designed blade for a specific material.
My advice here is to purchase an accessory kit that fits  Dremel, Milwaukee, Rockwell,  Chicago, Bosch, Fein, Makita, Multimaster, Craftsman and Rigid. If you use a multitool for lots of various works from cutting drywall to cutting nails, this set of well made blades that are pretty cheap and last long if you work with proper material, labeled on each piece. They are good enough to do the job and purchase another set when these will worn out.
Cutting
Cutting blades for multi tool are designed mostly for light work with a soft materials: rubber, carpet, leather, and so on. Cutting blade can also be used for removing old caulk.
Blades for grout removal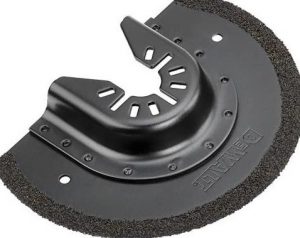 An oscillating tool can help you to quickly remove the old grout. The grout removal blades can have carbide or diamond edges. Carbide edged blades are enough for the most of applications. Diamond edged tools are more expensive but run faster and last longer when used with proper cooling.
I prefer to use carbide DEWALT blade for grout removal. This is the best tool to remove old grout. The DeWalt cuts through grout very fast and last long. All you need is a spray bottle to mist the grout line before cutting to avoid fine dust in the air. It holds up pretty well it is the cheapest blade among trustworthy brands.
Polishing
Your multitool can make polishing much easier. You can find different densities pads, just like regular sanding paper. Using polishing pads you can achieve a beautiful polished finish on steel,  chrome, wood and other materials.
Rasping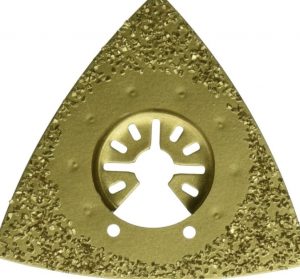 Rasping blades work great for coarse sanding of fillers (read also our drill sander attachment review), wood, concrete, or even bricks. As usual these blades are available in round and triangular shapes, but sometimes you can find finger-shaped one.
My choice here is Dremel carbide rasp. This is a 24 GRIT rasp and the manufacturer picked the 24 grit rating for a good spacing between bits for easy removing debris from the carbide. It's good, you don't need to clean the blade every few minutes. With this blade grinding is effective enough and much safer and accurate than using an angle grinder. You can work with concrete, epoxy, mortar, etc.
Best oscillating tool blades by brand
Up until a few years ago, there were a bunch of blades patterns/style. Each brand seemed to have their own hole pattern for the tool attachment. Then the blade manufacturers figured out how to make multiple hole cheme in the blades to fit almost any tool brands.
So, the "universalness" is provided rather in the design of the tool than the blade. Oscillating tool attachments are now a lot more universal than before, even the cheap no name blades. But of course, not all tools and blades are interchange.
Rockwell oscillating tool blades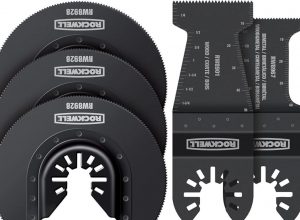 I have Rockwell oscillating tool blades, they are a 10 pack from Amazon for  for about $25. They work efficiently in removing old subfloor glue from joists. I've also used them to trim the bottom of the trim around all doorways to slip the laminate under the trim. Just lay a scrap piece of laminate, place the oscillating tool blade on top of it and cut the trim around the doorway at the perfect height. These oscillating blades absolutely cut where and in a way no other sawing tool can.
Imperial Blades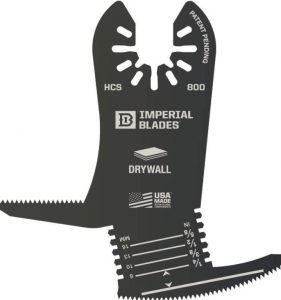 The only brand of oscillating tool blades I know who makes them in the USA i Imperial Blades. Moreover, I noticed that their blades almost in all of the god lumber yards that I visit. These blades aren't often sold at big box stores, the price is at about $30 per blade. But after a 10 months of usage, cutting embedded 16d nails out, I still haven't unwrapped the second blade of the carbide "MetalHead" type that is now called the "Storm CarbideExtreme". The blade number is "360" for carbide tool and 330, the 340, etc, for titanium coated tips.
I've been using another Imperial blades on my Fein tool since they came out. If you look on Amazon, can even find them cheaper than $16. I usually buy them in 5 or 10 at a time, they are cheaper in the set.
Bosch Blades
One alternative to expensive Imperial Blades is one model of Bosch blade with carbide made in Switzerland. The tool is not as long as the Imperial 360, and also isn't as wide or as thick. But at least there is an option.
Fein oscillating tool blades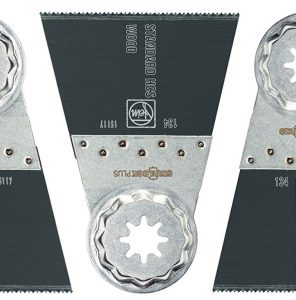 About five years ago I wasn't spending too much money on tools and Fein oscillating tool blades was the only option for me. And the prices were very high at that time. I should say that switching to the Fein 250 after low power Dremel tool was like going from an old carriage to a brand new Ferrari. It had much less vibration, noise and overall feel.
The Fein 350 or supercut is most likely much better than 250. So in my opinion, buy the best quality you can, you wont regret it. In my experience they last longer, but like any cutting tool, feed and speed make the difference.
Conclusions
Multi tools are a little weird devices that you can't understand why everyone loves them so much until you own one. And as soon as you purchase one, you start thinking why not doing it sooner: they are really good at making "impossible" jobs very easy!
My advice is to buy best quality blades that are designed for the right type of job. Preferably Imperial Blades, but if you don't use them every day, something cheaper (Fein or Bosch) will be good. Sure, some cheap noname disposables may be useful but if you try really good blade once, you'll never look back!
But there is one detail. It's a bit like choosing a handsaw. If you saw everything, sooner or later you will hit a nail a damage the tool. So, for used plastic and used fence boards buy a cheap saw and throw it away once a month. But if your work with clean wood and need to cut quick and precise, buy a tool of a different class.
Posted on
Categories
Drill Bits