5100class="post-5100 post type-post status-publish format-standard has-post-thumbnail hentry category-power-tools"
Choosing the Best Electric Chisel in 2021: Power Chisels Review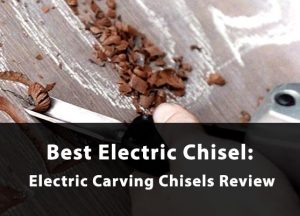 Do you want to do the work a normal hammer and chisel can do faster and easier? The electric chisel will help you to perform a pretty smooth, controllable and continuous carving with perfect depth and direction control. Moreover, you can find many chisel profiles for a decent price and change your chisel blade at the click of a button. Intrigued? Read our article to find out more!
What is an Electric Chisel and how it works
The power chisel uses a reciprocating action, with the user simply guiding the tool during carving. Electric chisels are used to make joints, precise corners, for wood carving, etc.
Carving process is different to shaping (see also best Dremel bit for cutting wood). The carving is achieved by slicing the chisel by pushing it into the wood. On the other hand, a rotary tool shapes wood by its abrasive nature and leaves much rougher finish than hand chisel.
In my opinion, using a power chisel is not "really" carving and nothing is like hand made. However, electric chisels reduce work time and increase productivity in a pleasant finishing phase.
Once again, neither rotary tool, nor electric chisel can't do everything. Power tools leave machine marks you need to remove, and very fine details like fur, hair and feathers need to be carved by hand chisel.
Power chisels review
Arbortech power chisel
The most common use of Arbortech tool is to take out the bulk of the wood and finish off using the power sanding and hand chiseling for a finer finish. The the tool works really efficiently and is easy to use.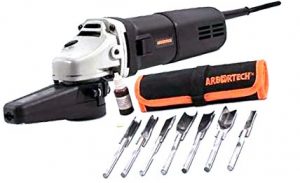 The chisel is equipped with a 710W motor and the blade makes up to 11000 strokes per minute for continuous cutting even in the hardest wood. The noise and vibration are relatively low for the power. Good news here are for allergists and asthmatics: it makes chips and not dust. The chips are also easier to clean up.
My advice is also to get better chisel pack for a larger variety of uses and cut types. The blades included in the set are of inferior quality, do not hold an edge and need to be sharpen too often.
Of course, it is noisier and heavier than hand chisels. It's too heavy to hold comfortably for a long time. The wrists became sore after 5-10 minutes and I couldn't achieve the results I want with this carving chisel. You have to use a little oil every 15-20 minutes. It isn't a big deal, one way or another you need to rest your hands.
Lighter electric wood carving chisel
An Automach electric chisel is much lighter, less powerful but more convenient for detailed carving. The vibrations are almost invisible, the noise is low too.
The chisel is equipped with 80W motor, the body is made of aluminum. The weight is 1.75 pounds (Arbortech is about 6.4 pounds). Similar to previously reviewed device, the tool keeps blades motionless until pressed against wood. The chisel blade does at 10 000 one millimeter strokes per minute. The set Includes rear switch, 6′ cord, five blades and a hanger.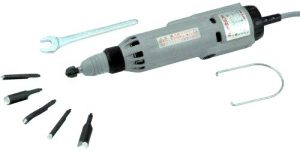 This electric chisel is very good for detail work, it changes direction pretty much as you wish it to do, without tear out. And it makes much less stress on wrists, hands and arms. The only downside to this power chisel is that for about 20 minutes it gradually heats up until you can't hold the tool comfortably. With 2 machines, you can let one cool while working with another.
The gouges included are decent quality, but if you order the Flex-cut Power gouges, it will be a good pairing. All in all the Automach electric chisel worth the price, it is very well made and will last forever for moderate duty tasks.
Power chisel for Dremel or similar rotary tools
You can attach power chisels to a Dremel or another rotary tool (see also best Dremel bit for cutting wood). These chisels are the most compact, lightweight and are the most convenient devices for carving small details. Since they don't have own motor, the price is the lowest too.
Since the chisels for rotary tools are portable and compact, they are good for cleaning up difficult corners and working in tight places. These attachments are also pretty reliable, usually quite a few flexible shafts need to be changed without any problem with the device itself.
Given the extremely low power of Dremel tools and problems with flexible shafts fitting, my advice is to overpay an extra $50 and buy something like VEVOR Electric Chisel. It is equipped with a 350W variable speed motor and is capable of operating for hours under moderate load.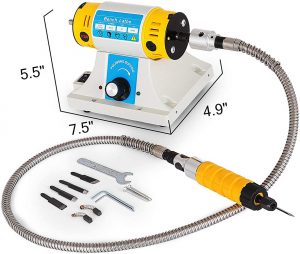 Conclusions
The choice of an electric chisel depends on the tasks you set for yourself. The more material you need to remove, the more powerful and large the machine should be. At the same time, smaller units are easier to operate, better controlled and better at carving small details.
Posted on
Categories
Power tools