An auger is a drill bit or device, that has a rotating blade and acts as a screw conveyor to remove cuttings. It is used to digging holes in the ice, earth, soil, wood, etc. The device can be turned by a cordless drill (K-Drill Ice Auger), wired drill, gas power head, manually turned, and so on.
Ice Auger Drills
Product
Description
Our Rating

K-Drill Ice Auger

OUR CHOICE

The K-Drill Ice Auger works with cordless electric drills. It is easy and fast lightweight ice auger device. Drive pin easily removed and you can drive it with any 7/8" gas powerhead with a clockwise rotation.

The heat-treated cutting blades are removable for resharpening, center tip helps to maintain the speed of cut, chipper blades are balanced and cut on opposite sides.

Weight – 6.7 pounds
Dimensions – 41.9″ x 9.3″ x 8.7″

The K-Drill Ice Auger cuts ice like a hell. And without gas and fumes, lightweight and portable. With 5.0 battery you can cut about 30 holes in 12″ of ice.

Eskimo Mako 43cc Quantum Ice Auger

Eskimo Mako 43cc is 8 or 10-Inch Ice Auger, powered with a 2 stroke engine (uses a 50:1 gas to oil ratio). Comes with a blade protector.

Dimensions: 20″ x 42.5″ x 11.5″
Weight: 39 pounds

This is your last power auger probably. It works great, starts easily, the engine is powerful. At first I wanted to keep punching holes instead of fishing 🙂 You drill 10″ hole through 13″ of ice without any downward pressure at all, the speed is incredible. All you need is to hold on tight to the handles.

Eskimo Hand Auger Drill

Eskimo Hand Auger drill has replaceable steel blades, that are straight, easy assemble with a crossbolt fastener system. Comes in three sizes: 6″, 7″, or 8″ diameter, 1-year warranty.

Weight – 6 lbs

The length is adjustable:

49-58″ length with 8″ cutting diameter.
49-58″ length with 7″ cutting diameter
49-58″ length with 6″ cutting diameter
Auger Drill Heads
Product
Description
Our Rating

XtremepowerUS V-Type 55CC 2 Stroke Gas Post Hole Digger One Man Auger (55cc Engine Head)

XtremepowerUS 55CC is 2-Stroke, 1090W, 2.3HP, Air Cooled Drilling Head

Speed: 170rpm, oil/gasoline mixing ratio is 1/25

The digger is lightweight and easy to Start, 4″, 6″, 8″, 12″ bits available.

While many hand augers can give you a real workout, the Xtremepower one is easy to lift, carry and move into position. It has plenty of power (enough to make 12″ holes), starts easily, and use almost any needed bit.

The 3/4″ size auger bits are harder to find and better to order them online (at Tool Planet or Amazon) but these are actually cheaper than the standard sized.

 Earthquake E43 1-Person Earth Auger Powerhead – 43cc 2-Cycle Engine, 5 Year Warranty

Earthquake is the worldwide-known manufacturer of auger heads. Lightweight, yet tough, the E43 is ideal for house projects, ice drilling, etc. Comfortable foam-grip anti-vibration handles help to work with ease.

The product comes with 90-day commercial and 5 year residential warranty

ARKSEN V-Type 52CC 2 Stroke 2HP Gas Post Hole Digger One Man Auger Power Head EPA

ARKSEN auger drill head makes boring holes faster and easier, it combines a powerful 2-cycle engine with precision, heat treated cut gears in a rugged transmission. Oil/Gasoline mixing ratio is 1/30. Primer bulb helps to delivery fuel into the carburetor.

The head has finger tip throttle control; large recoil startup allows quick starting and provides reliability. Shaft size is 3/4 inches,  1.4kW max output.

Dimensions: 12-1/4″ x 23″ x 15″
Auger Drill Bits For Wood
Product
Description
Our Rating

IRWIN SPEEDBOR Max Speed Auger Bit Set, 6 Piece, 3041006

1/2, 5/8, 3/4, 7/8, 1 and 1-1/4-inch bits.

Tri-Flute design, 3 cutting edges, full screw tip allows to self-feed.
Grooved hex shank, fit all standard 1/4″ quick change chucks.
Speedbor are better behaved than the larger diameter bits. If you need a cleaner hole, better to use a Forstner with a drills extension.
The flutes are really sharp and they motor through most wood almost dangerously fast if you aren't careful. A big challenge is finding a way to support the drill firmly in place so that the holes would be drilled straight and true. They cut good, sharp holes, and the fluted design clears the chips quite well.
You will need a drill with a lot of low-speed torque to do it, or the self-feeding screw tip will rapidly draw the bit into contact with the material and stall the drill.

Irwin Tools 43697 13 Piece Hand Braced Solid Centre Auger Bit Set

13 bits (includes auger bit sizes 1/4-Inch through 1-Inch in 1/16-Inch increments)

The lengths of each bit in this 13pc set are 1/4bits: ¼" Bit: 7-1/2"; 5/16" Bit: 7-5/8"; 3/8" Bit: 7-3/4"; 7/16" Bit: 7-7/8"; ½" Bit: 8"; 9/16" Bit: 8-1/8"; 5/8" Bit" 8-1/4"; 11/16" Bit: 8-3/8"; ¾" Bit: 8-1/2"; 13/16" Bit: 8-5/8"; 7/8" Bit: 8-3/4"; 15/16" Bit: 8-7/8"; 1" Bit: 9"

Medium-fast screw point ideal for general wood boring applications, full-length heat treated bit guards against bending, double spur, double cutter design – clean hole finish.
These augers aren't in the highest league. The cutting edges have large burrs, and the cutting edge geometry and reliefs vary.
The performance is quite good, however. They bore straight, largely clean holes, which for most users are adequate.

Milwaukee 4-Piece Auger Bit Set

1/2″, 3/4″, 7/8″ and 1″

Double wing spurs, non-stick coated flutes for faster chip ejection, impact rated shank.
These augers are adequate performers for the price, quite fast, great for dry wood. It grabs hold and will take you where you need to go.
Milwaukee sets were available at a good price and I didn't see any other packaged sets giving somewhat of a discount.

Irwin Tools 43612 3/4-Inch Hand Braced Solid Centre Auger Bit Set

3/4-Inch 62T Series

Medium-fast screw point, full-length heat treated bit guards, double spur, double cutter design.
The tool has a square tapered shank at one end that fits into a square hole in the bottom of the brace chuck; this keeps it from slipping in the brace while drilling. The jaws of the brace clamp the round shaft of the brace in place.
The tip of an auger has a tapered screw point that not only starts the bit at the precise point you wish to drill a hole, but also guides the tool through the wood as you drill. The screw point transfers the lateral circular motion into a vertical force that helps pull the but down through the wood as you drill. The end of the bit has two cutting edges.
Summary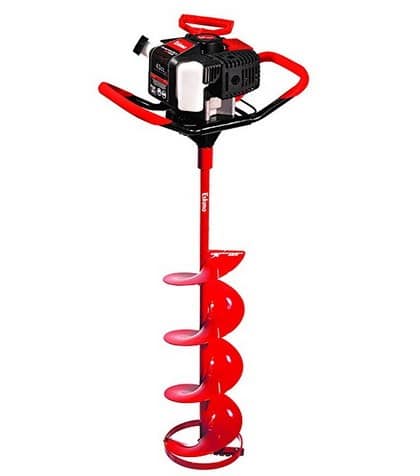 Article Name
Auger Drills and Drill bits
Description
An auger is a drill bit or device, that has a rotating blade and acts as a screw conveyor to remove cuttings. It is used to digging holes in the ice, earth, soil, wood, etc. The device can be turned by a cordless drill (K-Drill Ice Auger), wired drill, gas power head, manually turned, and so on. In the article are
Author
Publisher Name
Publisher Logo