Ginsco 3pcs 4-12/20/32mm Large HSS Steel Step Drill Bit Set Hole Cutter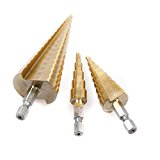 Great for using with plain steel, plastic, plywood and PVC. They are very sharp and cut smooth.
Standard high-quality HSS bits are good for 99% of the drilling tasks that anyone would do. IMO the best solution for a home shop is to buy HSS, and use a spotting drill.